ZDEL-Civil War Uniforms, Clothing and Supplies
C&C Sutlery
2001 North Washington Avenue
Emmett Idaho 83617
208-398-7279
Monday - Friday 8:30 AM - 4:30 PM Mountain Time
Please get your gift orders in early. It may take us up to 5 weeks to get certain garments made especially as it get closer to the holidays.
PLEASE NOTE: We have been VERY busy and many clothing orders are back ordered.
Please allow 4 weeks for your clothing orders.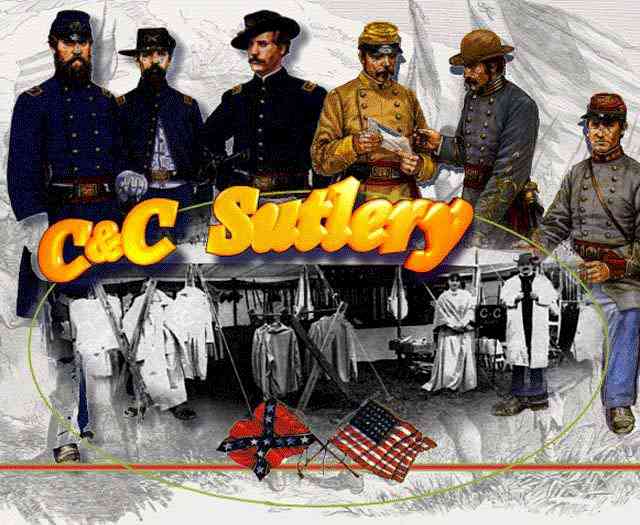 ---
---
Accurate measurements enable us to ship you the correct size the FIRST time. Please click see our Clothing Ordering Instructions.
HOW TO ORDER:
You may order on-line using our SECURE shopping cart.
You can phone us: (208) 398-7279 Monday - Friday 8 AM - 5 PM MOUNTAIN TIME. Please have ALL your order information ready.
You can FAX us your order: (208) 398-7279. Please print and fill out the Offline Order Form.
You can mail us your order. Pease print and fill out the Offline Order Form and mail it to:
C&C Sutlery
2790 East Black Canyon Highway
Emmett, Idaho 83617
PAYMENT INFO:
We accept VISA, MASTER CARD, and DISCOVER. Your credit card will not be charged until your order ships.
You may send CHECKS, CASHIERS CHECKS, or MONEY ORDERS. Make checks payable to C&C SUTLERY. Personal Checks must clear before products can be shipped.
DO NOT send Cash.
SHIPPING INFO:
- Don't forget to include SHIPPING in the total payment.
- Large orders require additional shipping payment. Call us: 208-398-7279 Monday - Friday 8 AM - 5 PM MOUNTAIN TIME for these costs.
- If Your Order totals the amount shown below, ESTIMATED shipping costs will be:
$25.00 or less .....................$11.00
$25.01 - $50.00 ...................$13.00
$50.01 - $75.00 ...................$14.00
$75.01 - $125.00 .................$15.00
$125.01 - $199.99 ...............$16.00
For $200.00 and above, add $6.00 for every additional $100.00 of purchase amount.
- We require extra shipping payment on heavier item orders due to:
The extra weight involved when packing several wool garments or
The extra weight of non-clothing merchandise orders or
The extra size of non-clothing merchandise orders.
- Your order usually ships between 2 - 4 weeks. Often we can ship directly from stock. You should have your products within 30 days. SPECIAL ORDERS ARE AN EXCEPTION.
- If you have questions regarding shipping please call us at 208-398-7279 Monday - Friday 8 AM - 5 PM MOUNTAIN TIME.
BACKORDERS:
Sometimes items are backordered. If this occurs we will promptly notify you. If you decide it is taking too long to get your item, we will refund the item cost.
ORDER STATUS:
You can always email <
info@ccsutlery.com
> or call 208-398-7279 Monday - Friday 8 AM - 5 PM MOUNTAIN TIME for status of your order.
FOREIGN CUSTOMERS and ORDERS SHIPPED OUTSIDE OF THE UNITED STATES:
- The shipping charges shown on your invoice are incorrect and will be removed from your order total.
- Correct shipping charges will be determined at the time the package is shipped per US Postal Service rates based upon the weight of the package and its destination. These correct shipping charges will be added to your order total.
- Shipping will be via US Postal Service and the package will be insured and tracked.
RETURNS:
- Your Satisfaction is Guaranteed on any item we sell. If not totally satisfied, for ANY reason, return the item in original condition and in original packing, for a full refund LESS shipping.
- C&C Sutlery's liability is limited to the Original Purchase Price. There is a 10 Day Return Privilege.
- SPECIAL ORDERS are an Exception. A SPECIAL ORDER is any item that is not stocked and must be discounted on a returns page. SPECIAL ORDERS returned for a refund will be subject to a 20% restocking charge.
- All other SPECIAL ORDERS returned for replacement or repair, our option, will be subject to additional re-shipping charges.
GUARANTEE:
- We warranty our shoes & boots against defects in materials or workmanship for a period of one year. If there is a problem we will repair or replace the shoes or boots at our OPTION. Excessive wear or abuse voids this warranty.
- Our products are guaranteed against defects in materials or workmanship. If we made something wrong, we will fix it at no charge.
PRICING INFO:
- While every effort has been made to be as accurate as possible in the pricing in our on-line and paper catalog, mistakes can happen. We reserve the right to correct errors.
- Our prices are subject to change without notice.
- We strive to keep our prices below those of our competition.
We have been in the Civil War and Indian War period clothing business since 1976 manufacturing all types of wool coats, wool jackets, wool vests, wool pants, cotton shirts, ladies dresses and more. We ship all over the world.
We can custom make wool & cotton garments for you as well.
All clothing proudly MADE IN THE USA in the State of IDAHO.
Send us an email info@ccsutlery.com info@ccsutlery.com or call 208-398-7279 Monday - Friday 8 AM - 5 PM MOUNTAIN TIME for more information or to place an order.