Confederate Shell Jackets - Enlisted
Be sure to have your measurements available when ordering. CLICK HERE for Clothing Measurement Information.
We want to ship you the right size the FIRST time.
Please let us know if you buy your clothes in TALL (generally if you are are 6'2" or taller) or SHORT (generally if you are 5'7" or shorter), have a large neck, have an exceptionally broad chest and very narrow waist, or any other clothing fitting specifics you think we should know about so that we can make your clothing to fit YOU!
Confederate shell jackets, with the exception of the CS Untrimmed Shell in Medium Gray, are custom made for you and a return or exchange is subject to a 20% restocking fee. Any custom made item returned or exchanged will be discounted and placed on our Returns and Sale page.
C&C Sutlery strives to meet the needs of both the entry level reenactor as well as the reenactor striving for the most authentic representation. Authentic and correct shell jackets are always lined with a cotton or linen lining. This attention to authenticity obviously increases the cost of the jacket. C&C Sutlery offers that many jackets in both an unlined version for an economically affordable price.
Proudly MADE IN USA in the Great State of Idaho.
All of our enlisted shell jackets can be customized to meet your needs. In many cases, we can duplicate a shell jacket from a picture. If the options below don't meet your needs, call us to discuss your specific customization.
Please allow 3-4 weeks for special orders.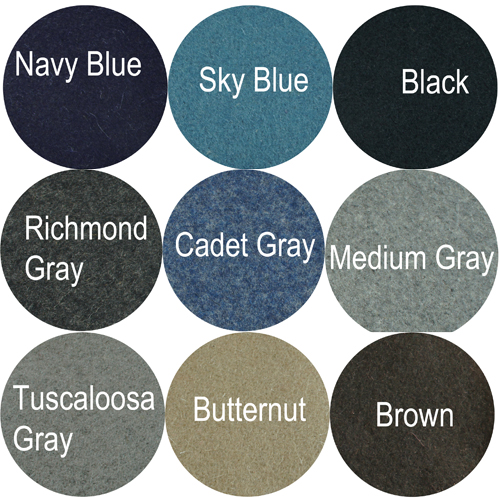 Branch of Service Colors:
Artillery: Red
Cavalry: Yellow
Infantry: Sky Blue
Medical: Black
Militia: Black
General Staff and Engineers: Buff (cream color)