Heirloom Spicy Carne Asada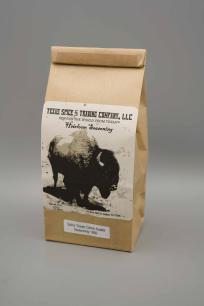 ** Heirloom Seasoning Spicy Carne Asada Blend **
This seasoning is based on an original 1860's San Antonio seasoning recipe for traditional Carne Asada. Carne Asada literally means "grilled meat." Your grilled meat can be used for tacos, burritos, tortas, or served as a meal by itself. Anglos quickly adopted this seasoning and used it in variety of dishes and with game meats.
Uses: Apply dry rub to meat and rest in the refrigerator for 1 hour minimum. Grill or roast as desired. Excellent for grilling meats and flat iron searing. This blend may also be used to enhance the flavor of soups, stews, and meat dishes. Flank steak and round steak are preferred, but any thin cut of meat will work.
Ingredients: Selected spices, salt, chili peppers, onion, garlic, red pepper, cumin, less than 2 percent silicon dioxide to prevent caking.
Net wt. 6.0 oz (170 g)
Great on beef, poultry, pork, wild game.
Click on the images to see more pictures.
Please Note: All seasoning will be shipped directly from (Texas Spice & trading Company, LLC).
Proudly Made in USA.