Lantern -Lantern Punch Tin Glass front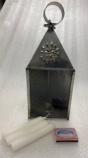 Our tin Ship or camp lantern is based on an historic example and hand-punched like the originals. At 12" high and 4" in diameter, it holds a standard 5" Candle.
Ship lanterns were commonly used on ships or camps.
Click on the picture for more images.
Imported