Customer Photos & Testimonials
Photos & Testimonials from our valued customers
We welcome your photos & comments! Email them to info@ccsutlery.com
---
5/7/2021:
"My LONG awaited jacket just arrived today. Couldn't get the box open fast enough. It is just gorgeous! Can't wait to show it off! Thank you. Sincerely Bob H."
---
03/2021: "C&C nailed it. Great frock." -Wayne C.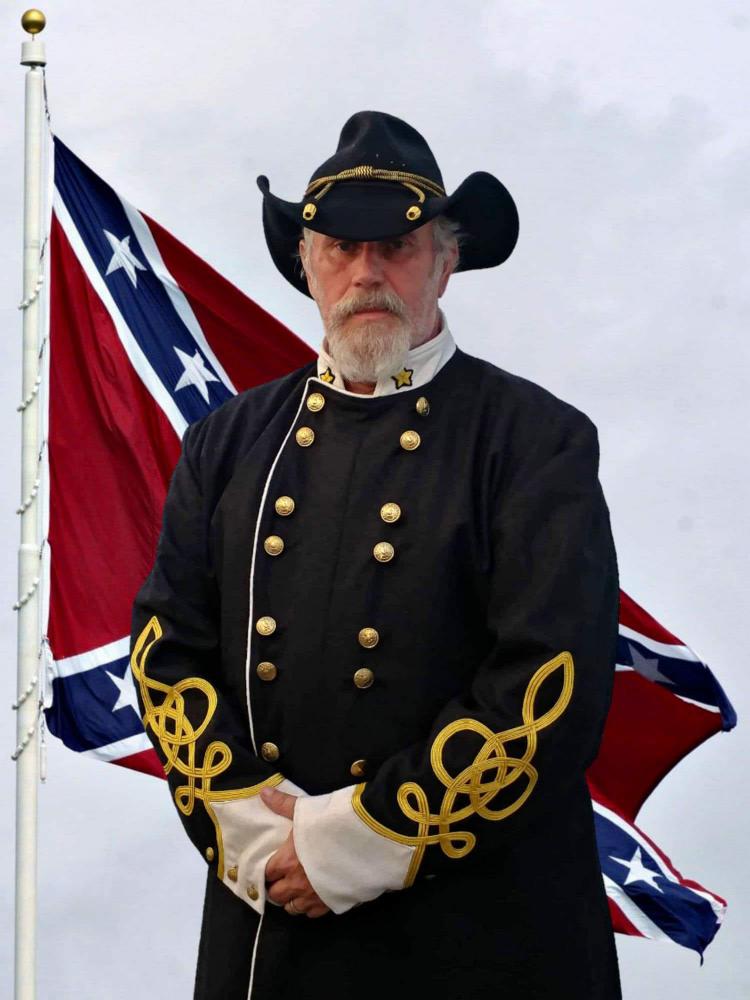 ---
4/17/2021: Photos courtesy of Alan T., Washington Artillery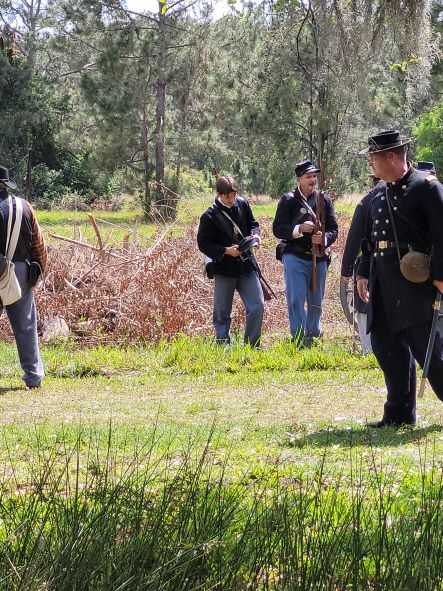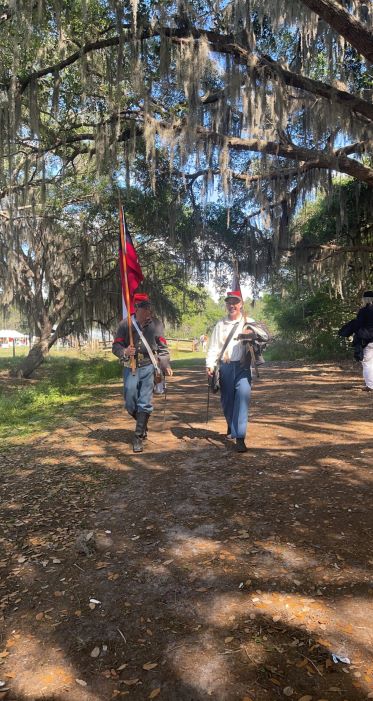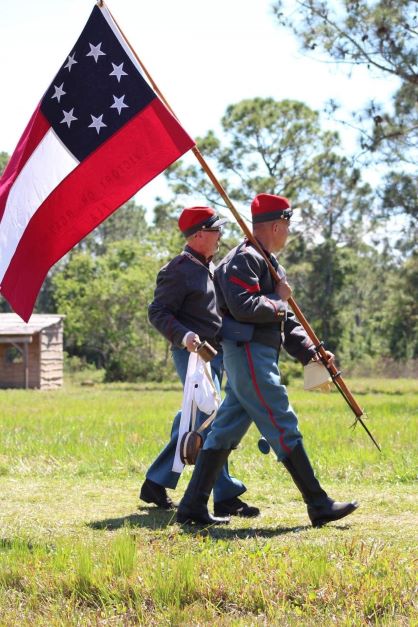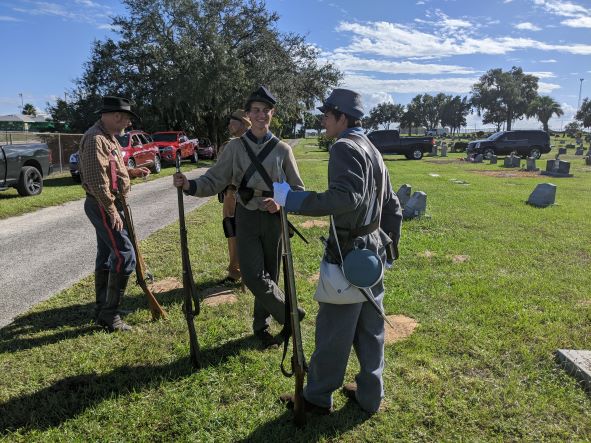 ---
02/24/2021: Photos courtesy of Jeffrey S.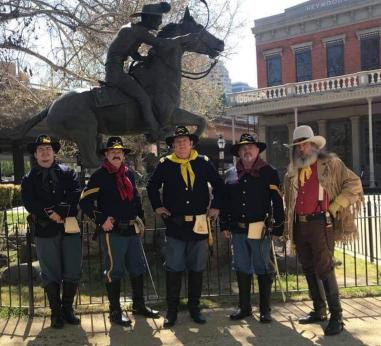 ---
5/9/2019: Lee N on Facebook: "This is one awesome customer service company, placed a order for a custom shell coat, received a call in under 30 mins, to talk it over. What great service , personal calls to verify orders, fast shipping , can't say enough."
---
4/8/2019: Gregory M on Facebook: "Just about everything in these two photos I purchased from C&C Sutlery. They have a wide selection of uniforms, gear, and accessories. Prices reflect the quality of certain items from the mainstream beginners, to those on a budget, and those willing to spend for top quality items. I highly recommend C&C Sutlery."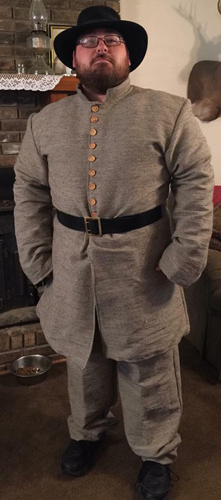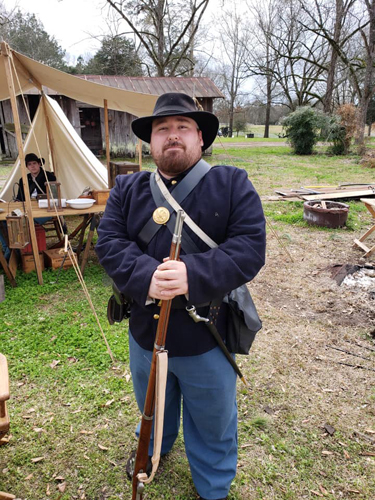 ---
4/7/2019: New Freedom Farm, in Buchanan Virginia. Photos from their Opening Ceremony.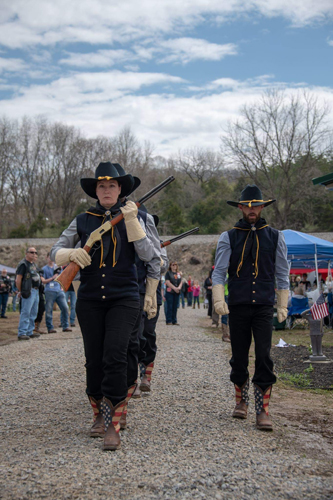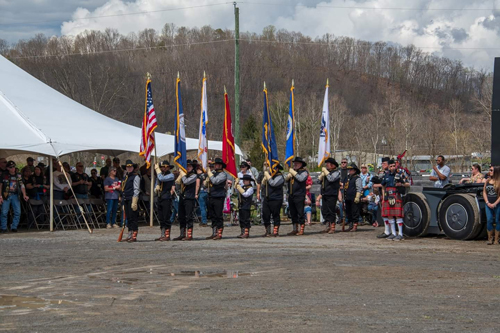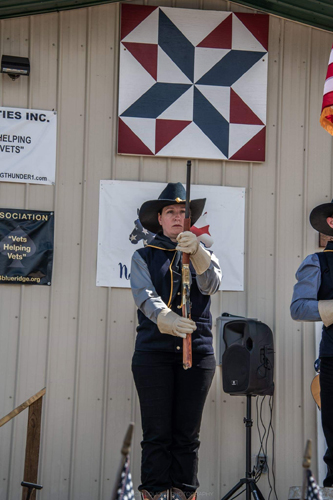 ---
4/3/2019: Chad M on Facebook: I ordered the J.T. Maritn Fatigue Blouse with hand stiching and I have to say, I was really impressed with the coat after it arrived in the mail. It fits perfectly, and looks amazing. I would absolutely recommend C&C without doubt!.
---
3/29/2019: Cecil D on Facebook: We love this Sutlery in our family. If not for C&C would wouldn't be able to afford to reenact.
---
3/29/2019: Quintus Valarius G. on Facebook: "These are the best tents I have found for our group of crazy Romans at SCA events!"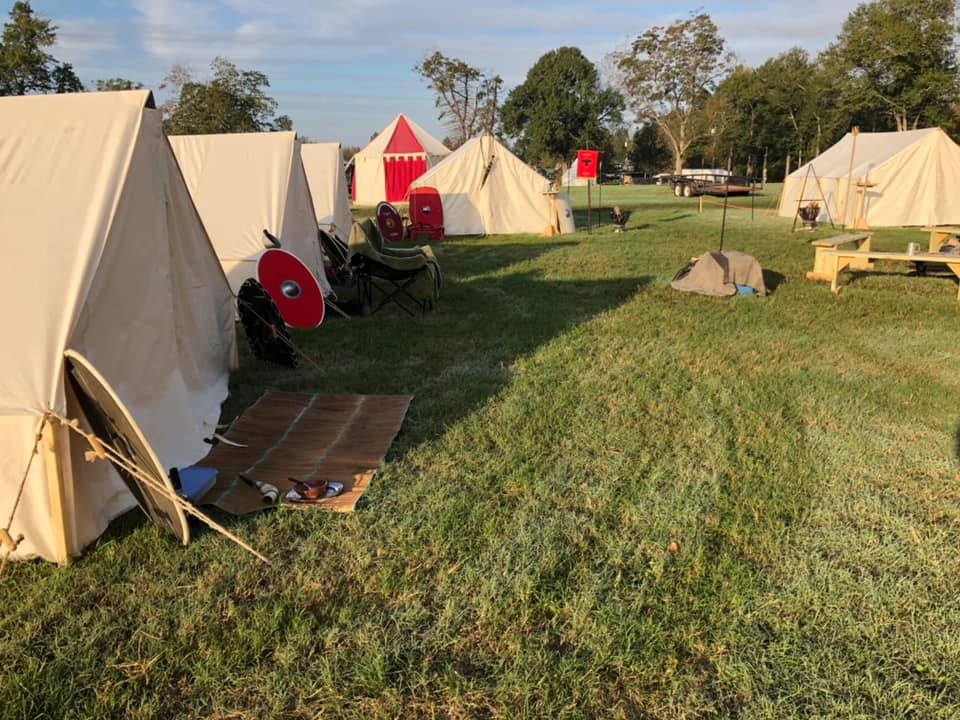 ---
3/21/2019: Patrick P on Facebook recommends C&C Sutlery: They are very reliable with fast service. If they can't help you or if you can get it cheaper at another vendor they will recommend them
---
2/22/2019: Ordered on Wednesday and it shipped on Friday..Amazing for a 12L x 10W x 7H Wall tent. Awesome customer service as well. Corey W., Somerville AL. (Via Facebook)
---
2/15/2019: Fort Abraham Lincoln State Park Saturday Kids Program. Alan J., Fort Abraham Lincoln State Park, Mandan ND.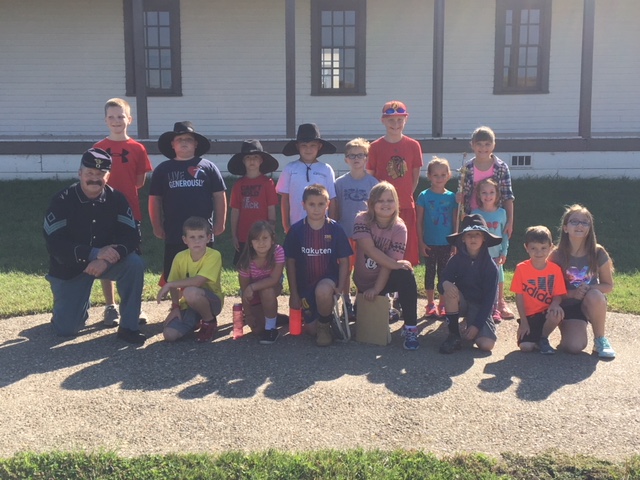 ---
2/15/2019: My 7th Cavalry Persona. Alan J., Fort Abraham Lincoln State Park, Mandan ND.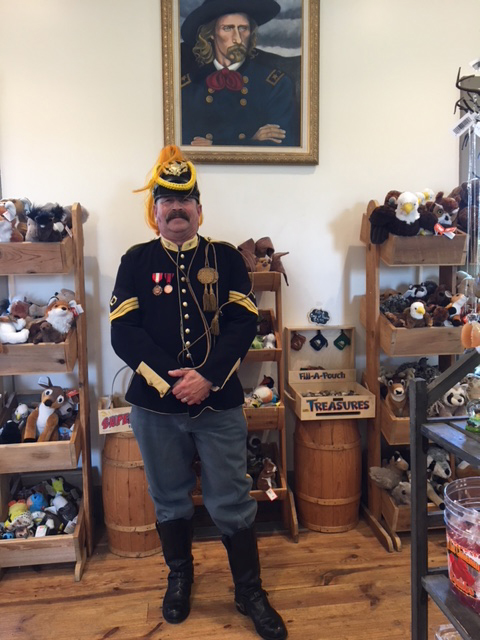 ---
2/13/2019: 2018 Battle of Aiken re-enactment in Aiken, SC. This annual event features period craft vendors, sutlers, period musicians, and an elaborate re-enactment of the historic Battle of Aiken. Last year was our first year to attend in period dress. There seems to be a growing interest in the event and many in attendance don quite impressive period correct dress. Free entry is granted to anyone in period dress. Bryan R. (Via Facebook)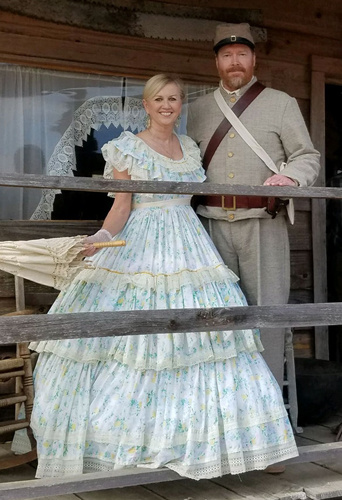 ---
2/8/2019: I have made a few purchases here and always have gotten them lightning fast. Well, except this time. See, I ordered a kepi and I recieved a call telling me it would be weeks before I got it because they gave their seamstresses some time off after the holidays to recoup. I like that a lot. This company cares about it's people enough to delay business. I gladly wait for my item knowing that the employees aren't treated poorly. Good on you, C&C. You will have my business for years to come. Jack U, Angels Camp CA (Via Facebook)
---
2/2/2019: I have been buying uniforms and other items from C & C Sutlery for the past 4 years. Great doing business with these people!!! David Coggins, Confederate Veterans MEMORIAL Park, Luverne Alabama (Via Facebook)
---
1/29/2019: Thank you for your quality work. Al J, Living Historian Fort Abraham Lincoln State Park.
---
1/29/2019: I received the uniforms. They look great! Thank you! Jane B for "Swamp Thing", Wilmington NC
---
1/26/2019: Absolutely love my kepi ! Perfect fit on my size 8 noggin! Great customer service too! Jackie E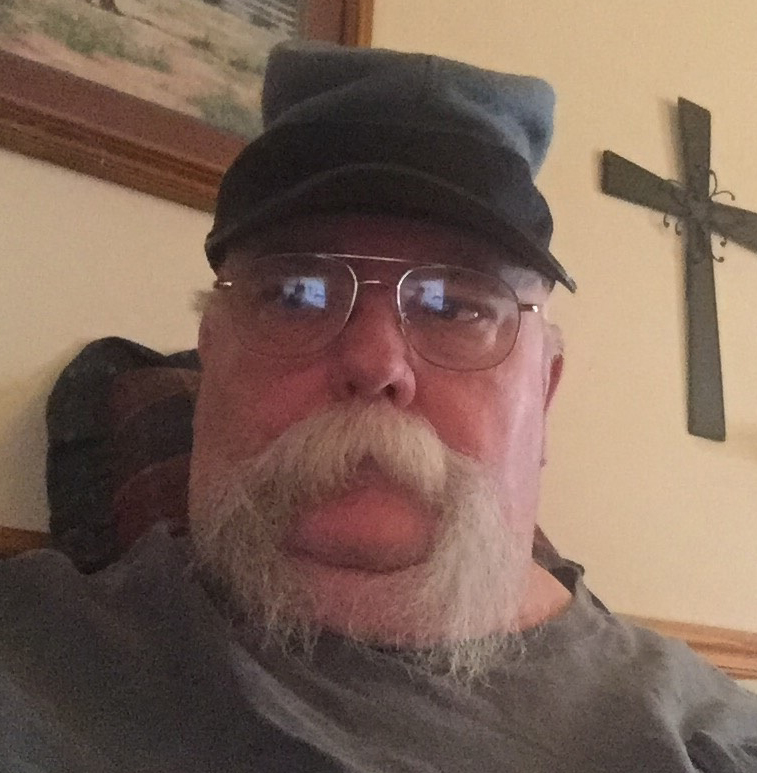 ---
1/25/2019: I received my Richmond Carbine today. I wanted to thank you. It is awesome. Thanks, Don M., Zebulon NC
---
12/22/2018: I have gotten a few things from them, very good service, shirts fit nicely and plan on getting more after the new year starts. Mike C., Sullivan MO (Via Facebook)
---
12/18/2018: This place is awesome. I would recomend this place to anybody who is interested in Civil War Reenacting. I get all my gear from C&C. They have great prices for high quality gear and clothing. I give them 5 stars. Caleb R., (Via Facebook)
---
12/15/2018: Hello! Last year, we purchased a lot of reenacting gear from you for our short film "Remember Me", which at that time was still under production. Well, we are excited to say that it has been officially released today! You can see it here:
Remember Me - A Civil War Short Film
If you enjoy it, would you mind featuring it somewhere? We would really appreciate the publicity. :)
Thanks for your prompt and professional communication with us during the process of ordering our props last year! Even though we were ordering "at the last minute", you promptly delivered the items on time for our shooting dates. We highly recommend you as a sutler! :D Best regards, Cole Austin, Rookie Ace Productions
---
12/8/2018: We love the uniform! Amazing! Thanks so much and love the fast shipping. Leah S., Brentwood TN
---
11/23/2018: Hi, received the shirt today. Looks fantastic. I like the heavier fabric, nicely done! Ken P, Roseville CA
---
11/23/2018: (Value Line Indian War Fatigue Blouse) arrived, very high quality! a perfect fit, will get picture made and send in full fatigue dress! thank you so much for the quality product, lewis e.,
---
11/16/2018: Hello!! Well... I hope ya'll can forgive me but I wont be neding to cancel the order after all, I spoke too soon on thinking the order will not arrive in time just literally 20 min ago the UPS came and delivered this Beautiful Revolver!! talk about surprises right! ) The guys in the group will get a kick out of this awkward story haha. Thank You and I hope to do more business with your fine company soon!! Best Wishes!!-AL G
---
11/12/2018: I like the stuff it is good. It's all maed in the United States and I love my uniform. Charles B., 5 Stars (Via Google)
---
11/10/2018: Hello, I just received my order (Civilian Sack Coat) and I am very pleased. Thanks for all your help! Geoff P, Englewood CO.
---
10/31/2018: Received package today, very impressed with the hats and jacket, Thank you! Robert C., Jonesboro AR
---
10/24/2018: Hi, Everybody at C&C Sutlery. Just wanted to let you know that I received my package on Monday, October 22, 20189. Excellent service! Arrived in great condition. Gauntlets fit perfectly (we used your measurement drawing for gloves). Thanks for the great experience! Keep up the good work. Glad to know I can recommend C&C Sutlery to my friends with confidence. Connie M., West Point, KY
---
10/23/2018: Thanks for providing the really nice reproduction tin cups which were used as prizes for the World Championship Savage 23 Rifle match at Junction City ,Ohio. This match celebrates the two local Generals. William Sherman from Lancaster, Ohio and Phil Sheridan raised in Somerset, Ohio. Hence Uncle Billy and Little Phil. Junction is conveniently located near both these locations. The match also celebrates the unique Savage 23 Sporter which was made between mid 20s and 1941. The ownership of one of the iconic 22 rifles of the depression era is required to participate in the match. The match was a contest consisting of 30 yard targets and fifty yard targets. Shot for best score and smallest group size. The top three marksmen were decided by the narrowest of margins. The winner was Bob Pinney of Bremen , Ohio. 2nd place was Rick Beach of Junction City,Ohio 3rd was Bob Daub of Circleville, Ohio. Apologize for the photos. Brady was not there to do it right. Hope you can view the prize cups in good resolution. They turned out very nice. We will need more cups for next years match so will be calling. Thanks Much Old Bob Daub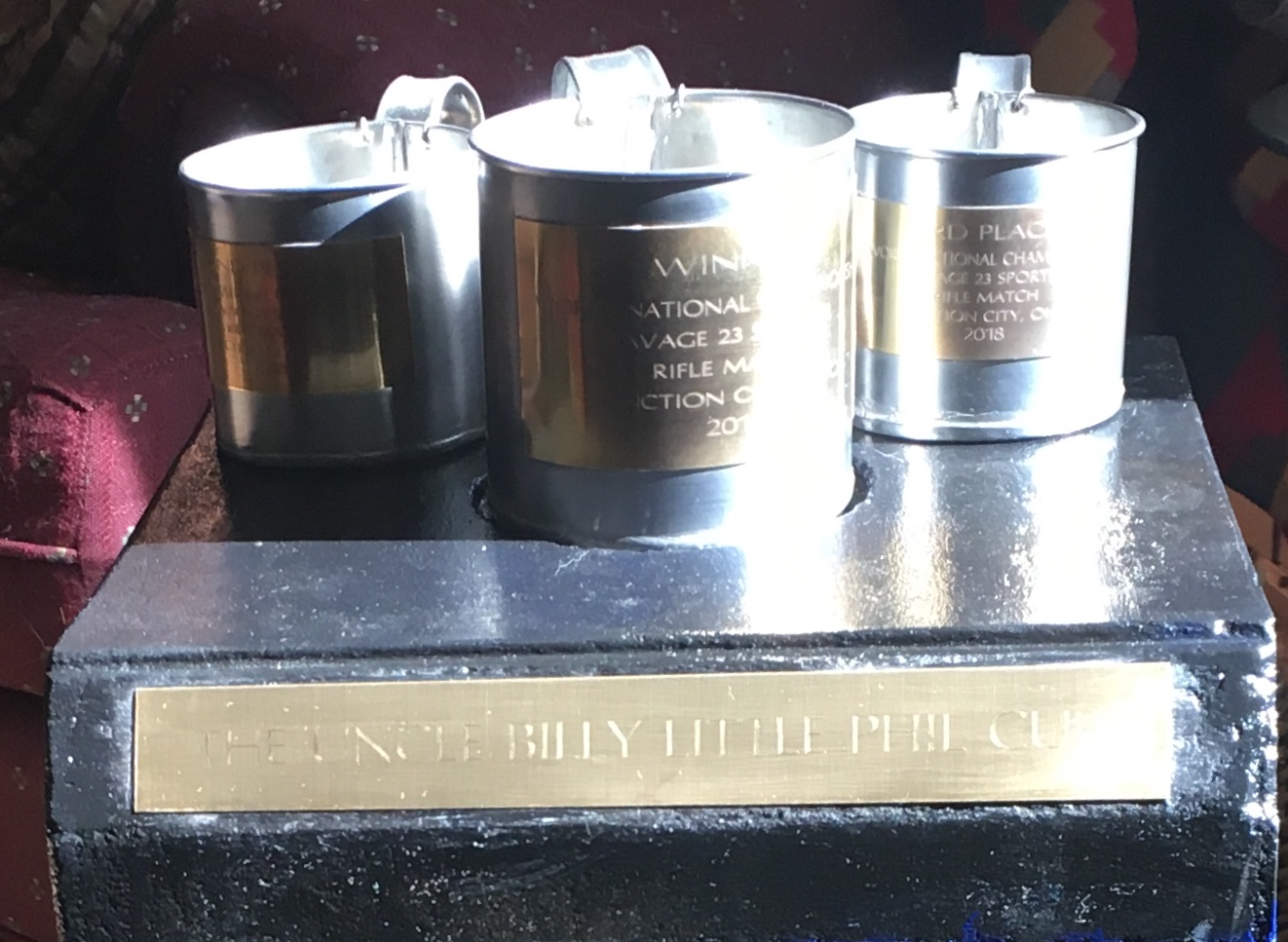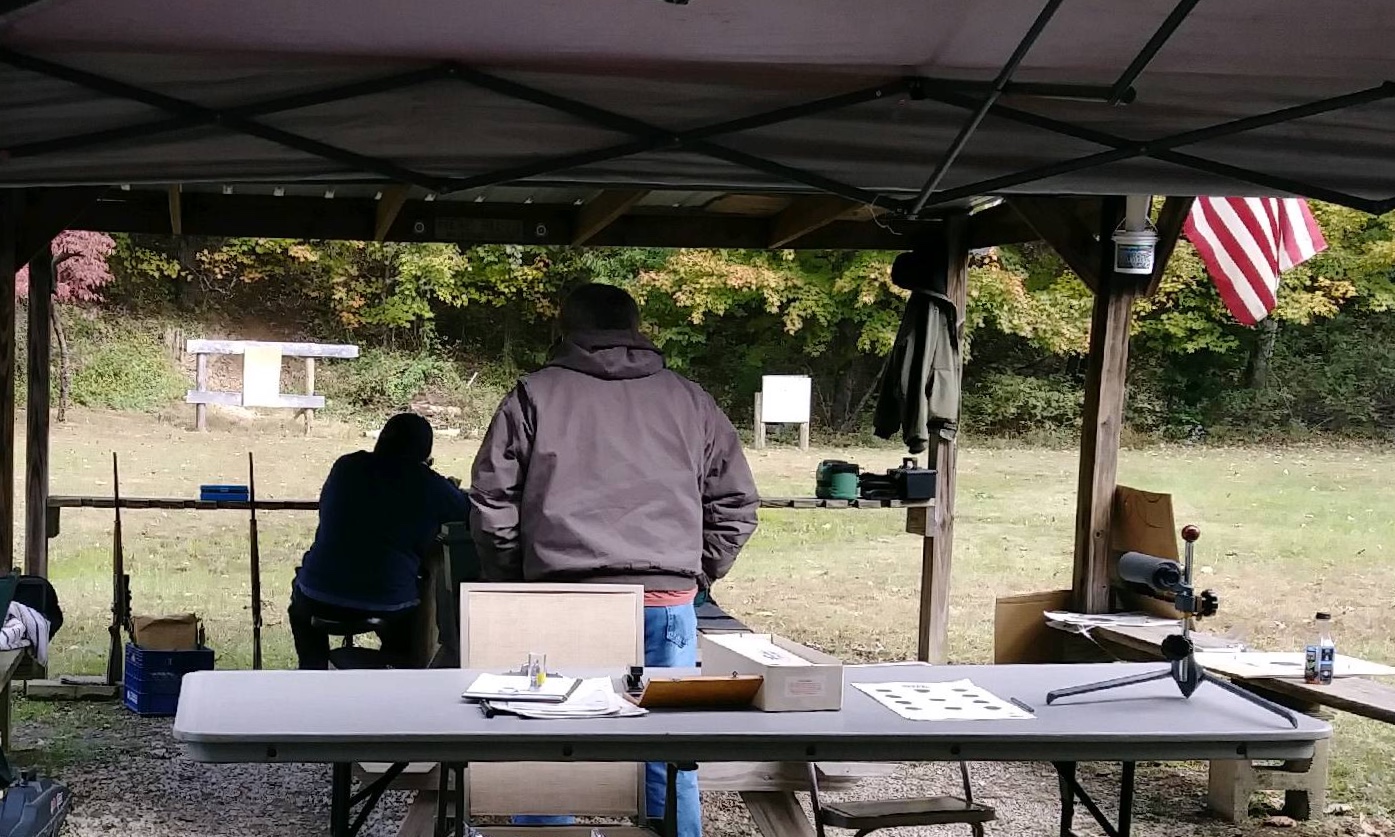 ---
10/18/2018: Hello ! I received this morning my purchase of a CS vest and a CS shell-style jacket . I have to say that I love them both. The vest is really high quality, well constructed and fits really well . I cannot find any vest locally, without you, that hits all the high notes, correctly, that your vest does. Your jacket sleeve length and circumference fit as if I were measured for it. The shoulder fit and chest width are perfect and very comfortable. I will wear it for years. I really don't know how you make and sell such quality garments at such a reasonable price. I do appreciate your skilled efforts. I would say, "give that tailor (women/man) a raise !" You have made me very happy and I will consider myself your greatest fan and supporter. Sincerely, Timothy M. B.
---
10/10/2018: Hi there ! Just a few words to say the parcel arrived today and all is perfect ! The jacket (Value Line Atlanta Depot Shell Jacket) has a quite realistic look and fits me very well ! Thanks a lot. Christophe C., Saint Cyr au Mont d'Or FRANCE
---
10/3/2018: Hi , I just received my Forage Cap and can't tell you how happy I am with it. The fit is excellent, as if I was able to try several sizes but this one is the best fit. I am delighted and grateful. You do very high level craftsmanship and I appreciate it. Thank You once again. Signed, Timothy B
---
9/7/2018: I recently bought a Union Kepi. Super authentic goods. Horatio H., Stuttgart Germany (Via Facebook)
---
8/12/2018: World famous company hidden away in Emmett, Idaho. A. G., 5 Stars (Via Google)
---
8/6/2018: Good day, I have received both parcels and all the items. I am very happy with the quality and workmanship of everything Thank you very much. Regards Russell R., Brisbane Australia
---
7/27/2018: I have placed many orders with this company ,They say that my orders will take up to 2 to 4 weeks ,Yet my orders arrive in about 4 days or up to one week ,Im always happy with the orders and the time it takes to get the order to me ,Thankyou Kieth J., 5 stars (Via Facebook)
---
7/13/2018: I want to thank you for being able to provide the uniform and additional items to make the tribute to 5 Confederate dead at the Smith Cemetary. All were in the Parsons Brigade which formed up about 3 to 4 miles from my house. V/R, Sam M.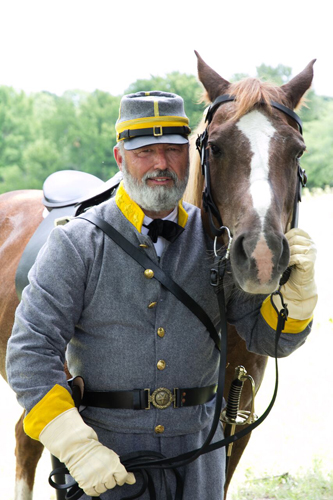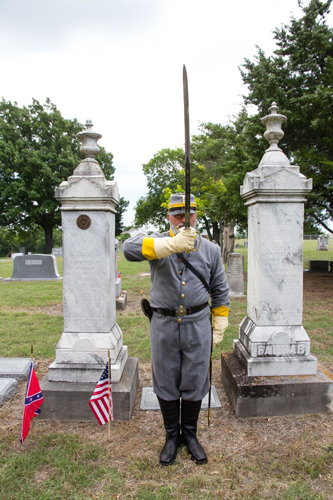 ---
6/20/2018: Here I am with the McDowell Cap. I'm very pleased with quality. Excellent cap, excellent price. Gary D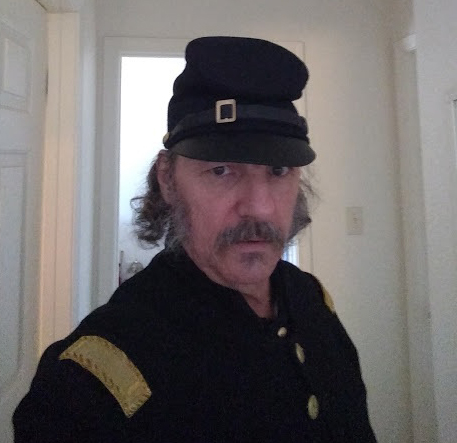 ---
6/12/2018: 151st The Oldest Memorial Day Parade in the Country Known as the Kings County Day Parade 14th Brooklyn (Red Leg Devil's) & 82nd N.Y.S.V. Greg D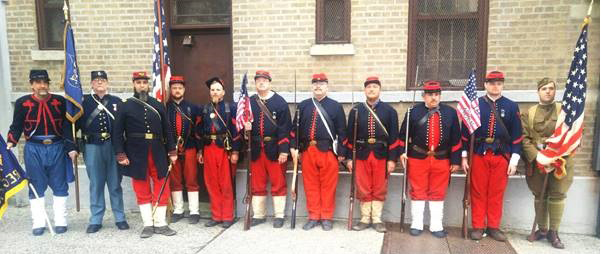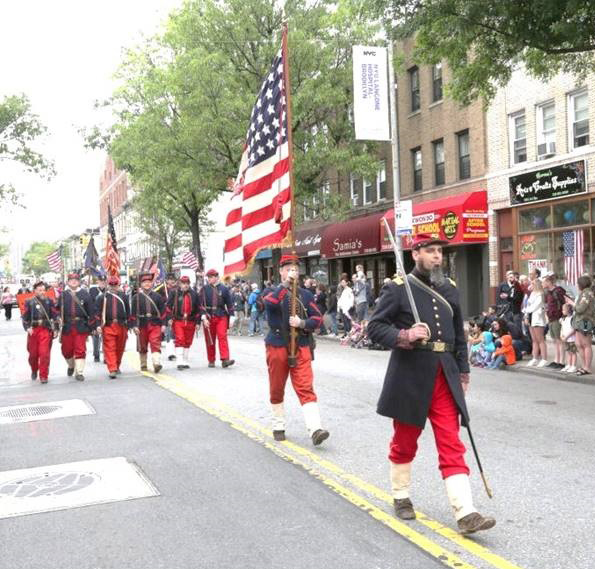 ---
5/28/2018: I wanted to thank CCSutlery/ Charles for redoing my coat. The fit is much better after you altered it! Thanks again for the great customer service! Ron W., Ashland VA
---
5/28/2018: The US buckle was awesome and greatly appreciated. It brought extra life and class to my wood art gun mount. Thank You. Thomas K., Phoenix AZ, Wood Art Creations - "Where the Old world Meets the New"
---
5/19/2018: My Union sack coat [JT Martin style] Size 44, Length standard, hand-stitching arrived today eight weeks and six days after ordering. To be truthful our units re-enactment season has started, and as a new recruit was frustrated at how long it was taking so I bought a used sack coat off Facebook. Before the used one arrived, C&C Sutlery's arrived today. I was immediately impressed with the quality of the fabric, liner and stitching. When I put it on however I was disappointed with how tight the sleeves were especially around my shoulders. I also had difficulty butting the last button at my neck. I couldn't understand as I emailed my measurements when I ordered the coat. Well, my wife and I went to dinner at her mothers and I decided to put on my sack coat and forage cap, canteen and rifled musket so she could see how I'm progressing with my re-enacting kit. The second time I put the sack coat on it felt a little looser. I wore it for a while at my mother-in-laws then took it off. I put it back on for dinner and I could button the top button comfortably. Sorry for the lengthy comment, but I think the more it's worn, the more it contours to my body. By the end of the night I was happy that I purchased the sack coat from C&C. They know what they're doing! Thank you. Greg C.
---
5/12/2018: Awesome people, we're from Central Washington, they opened their store just for us on Saturday, made sure we had the right sizes. Badger W., 5 Stars (Via Google)
---
5/11/2018: THANKS YOU GUYS. COULDN'T HAVE DONE IT WITHOUT YOU. Mark W.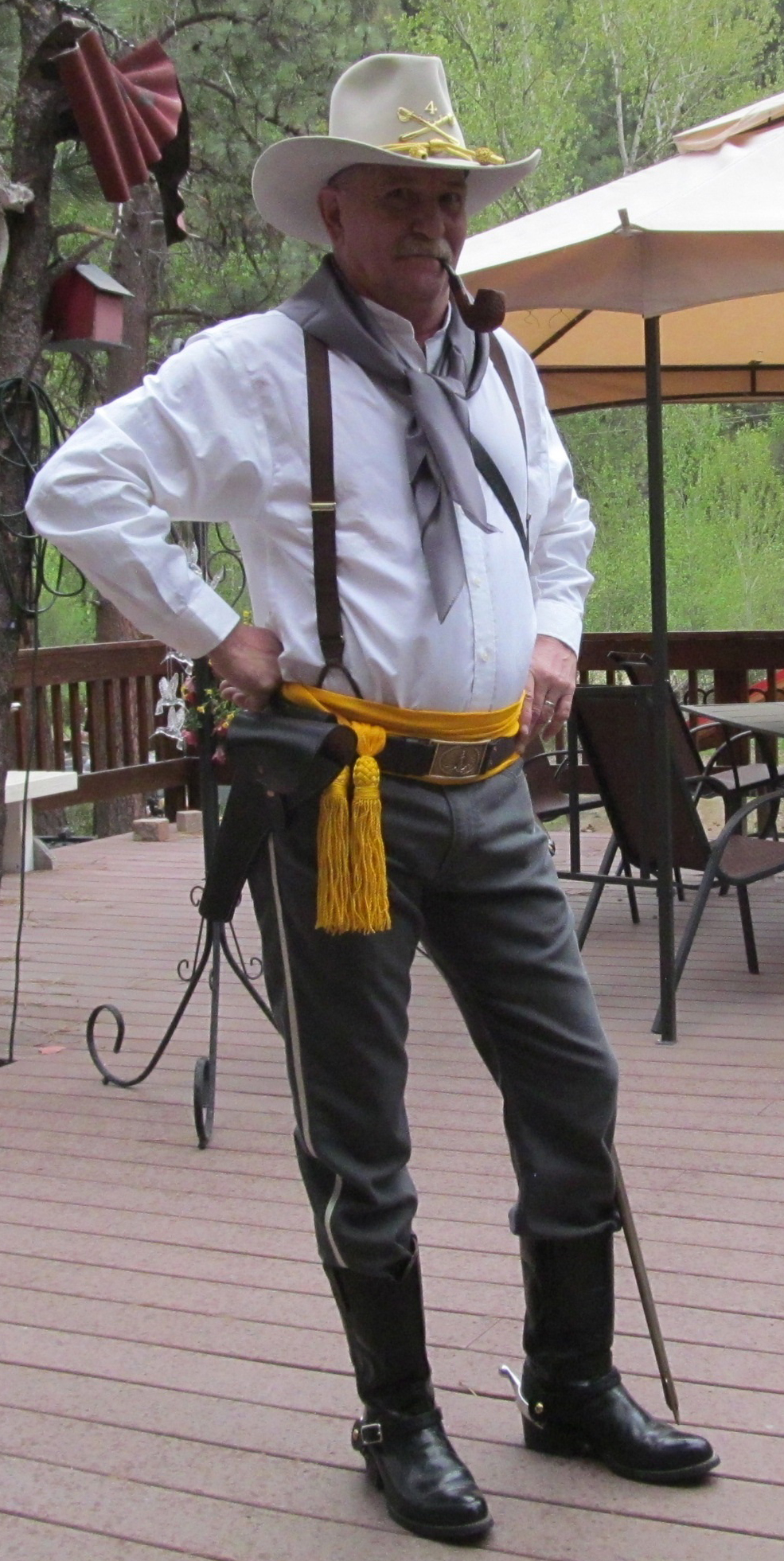 ---
5/8/2018: I am very pleased with my order!!!! I ordered on Friday and received my order on Monday morning. The best service I have ever received from any company. Thank you, we will be doing business again! Al C., Senatobia MS.
5/4/2018: Excellent customer service, thank you for your assistance. Looking forward to sending you further orders in the near future!! Al C., Senatobia MS.
---
5/5/2018: Just wanted to say i have made 3 purchases from C & C and have been very pleased. I purchased the Uniform package, not the budget line but the C & C product line. I've ordered an additional shell jacket just to have a different impression. brogans, slouch hat, shirts, eating utensils, kepis, etc. and I will never again order from anyone other than C & C. I am from West Virginia and have many sutlers to choose from but it's worth the extra long shipping. Friendly, timely, willing to help, great people and great products. Tony S., 5 Stars (Via Facebook)
---
5/5/2018: Thank you so much my uniform is liked by all who see it I tell them about you all the time and how to find you the great quality of the work you do. That's why which my big order and with the purchase of my fire arm I thought only of you. And I will always do. Business with you all. For all my future needs. Jonathan D., Ghent KY
---
4/30/2018: Dear C&C Sutlery, I just wanted to say how pleased I am with my Frock Coat. It fits perfectly and looks fantastic! I've attached a picture of me wearing it with my C&C dark blue trousers. Thank you so much! Sincerely, Ryan S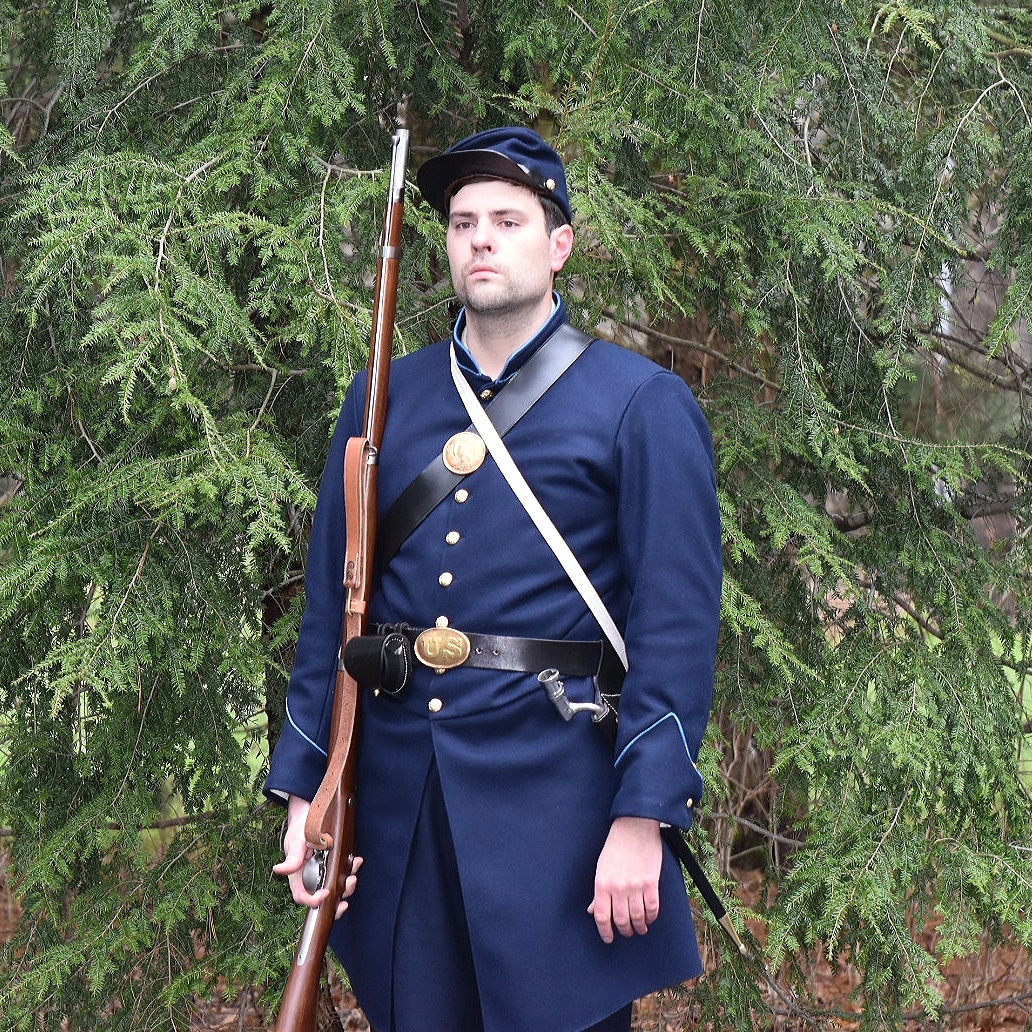 ---
4/30/2018: I just wanted to let you know that my order arrived Saturday afternoon and all of it fits perfectly. Thank you for your efforts in getting it to me. It is greatly appreciated. Thank you, SSG Aaron K. S., Directorate of Plans and Operations Tasking NCO United States Army Military, Police School Ft. Leonard Wood, Mo.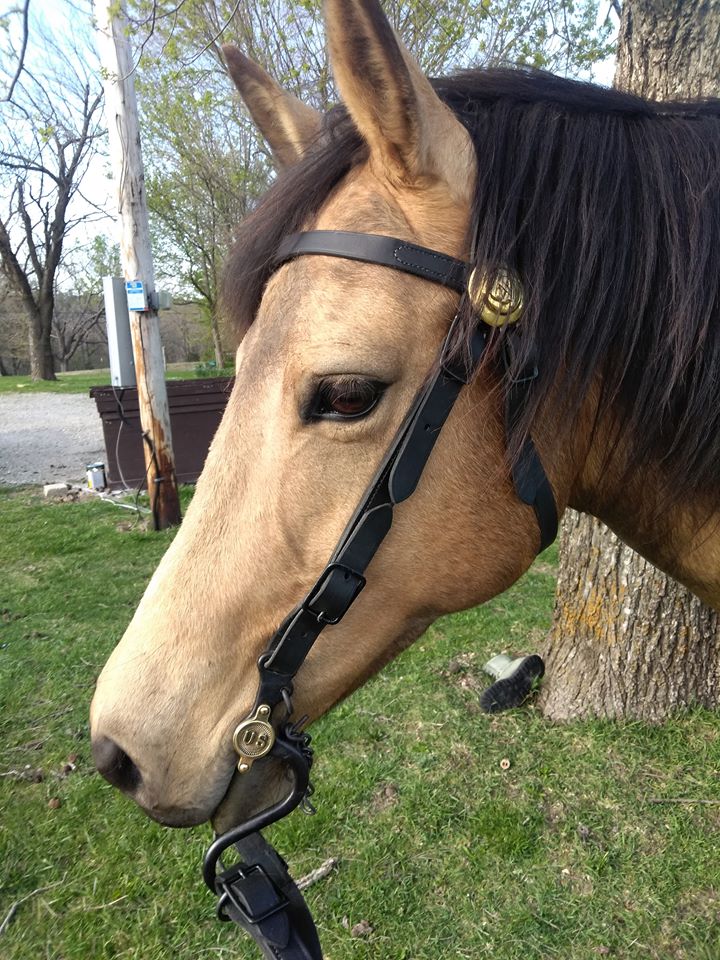 ---
4/30/2018: Dear Friend, I have purchased a complete budget-line Confederate uniform. I am a member of a Masonic Degree team and have wore the uniform several times. Even though this is not the most expensive uniform in the group, it is very comfortable to wear and serves the purpose very nicely. I recommend the budget-line to anyone who is wanting a uniform but cannot afford to invest a great deal of money. Thanks for you speedy service as well. Respectfully Larry R.
---
4/27/2018: First off I want to Thank You on the service and speed of which you processed my recent order! I look forward to ordering more in the future. Second I want to Thank You for the help on resetting my password. Brant W., Philadelphia, MS
---
4/24/2018: I've just received my items. Thank you. Blankets are nice. I'm happy with the coat! (Spirit Horse Canvas Duster). Philip F., Sterling Heights MI.
---
4/22/2018: Awesome job guys the uniform is very well made the uniform is stitch nazi repellent going to my first civil war event in May in shelburne vt wish me luck against those rebs again great gear guys thank you for all your help am looking forward to doing more business you folks if I survive the skirmish pvt R.Love 2nd Vermont volunteers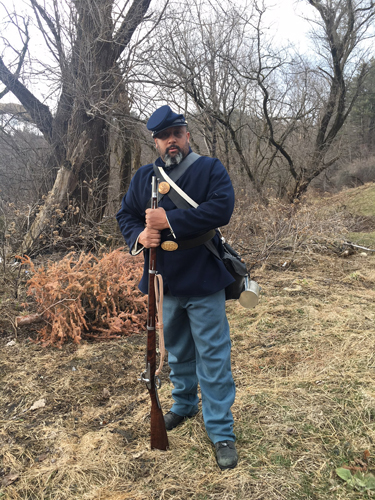 ---
4/19/2018: Dear C&C Sutlery, Thank you for the forage cap and i will buy more things from you guys this year for reenacting. Again thank you for the hat. Isaac R
---
4/13/2018: C&C: Thanks so much for your rush service! I got my parcel today. I am giving a class on Monday on what a Union soldier might have had in his haversack. Mark T., Berkeley, CA
---
4/12/2018: Great! A candy store for any body who is interested in the civil war. Right here in Emmett Idaho. Robert M., 5 Stars (Via Google)
---
4/5/2018: I received the halter today at the Post Office. I want to congratulate you and your store for such a wonder choice of vendors to purchase and represent their Cavalry Equipments. This Halter is precisely correct and what I had hoped it to be. Thanks. I will make a point to purchase from you for now on for whatever Cav., needs I may have which you may be able to supply. Also, the tracking was great. Right on time!!!! Sincerely, Kerry S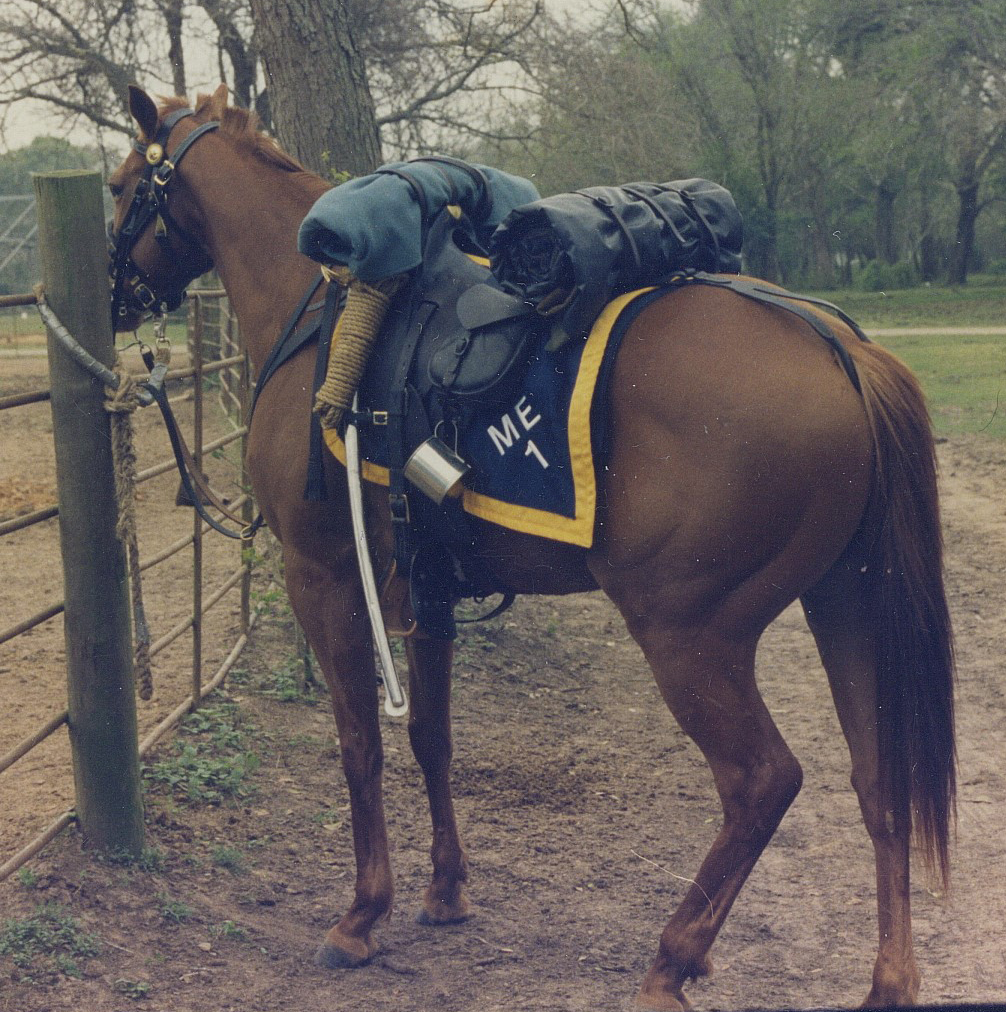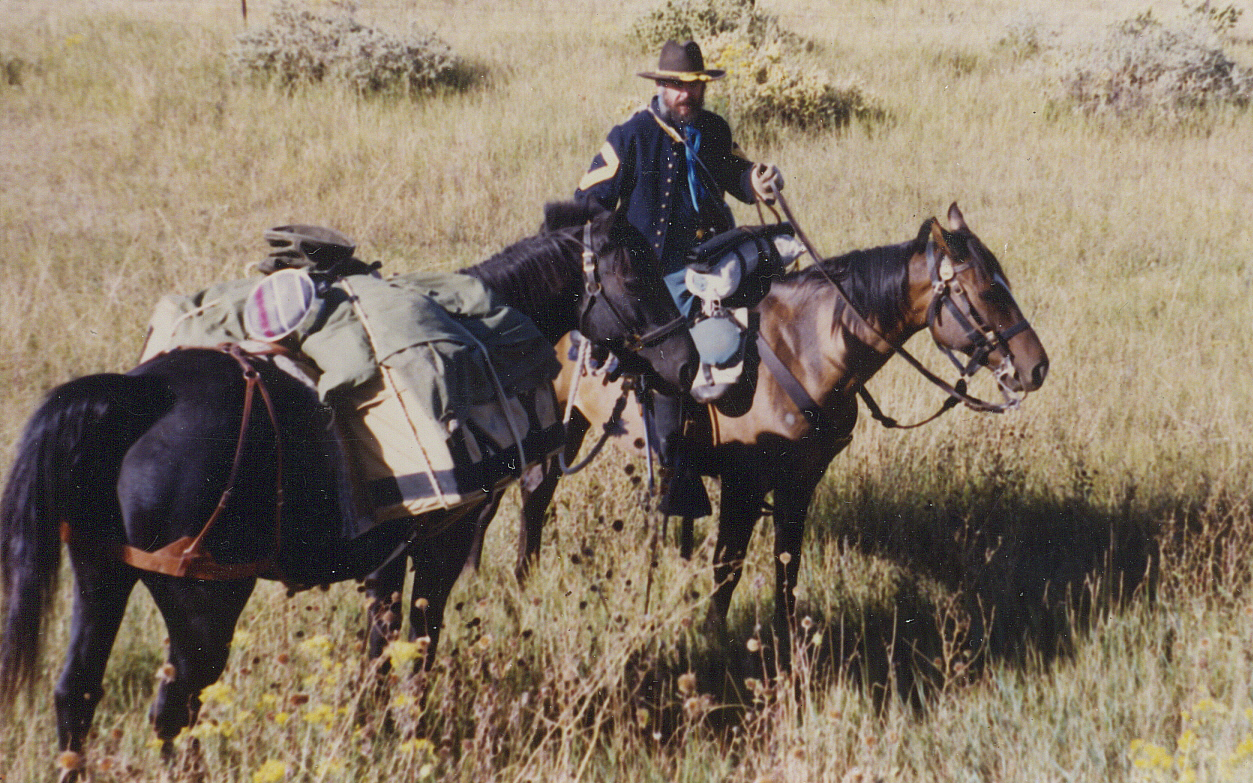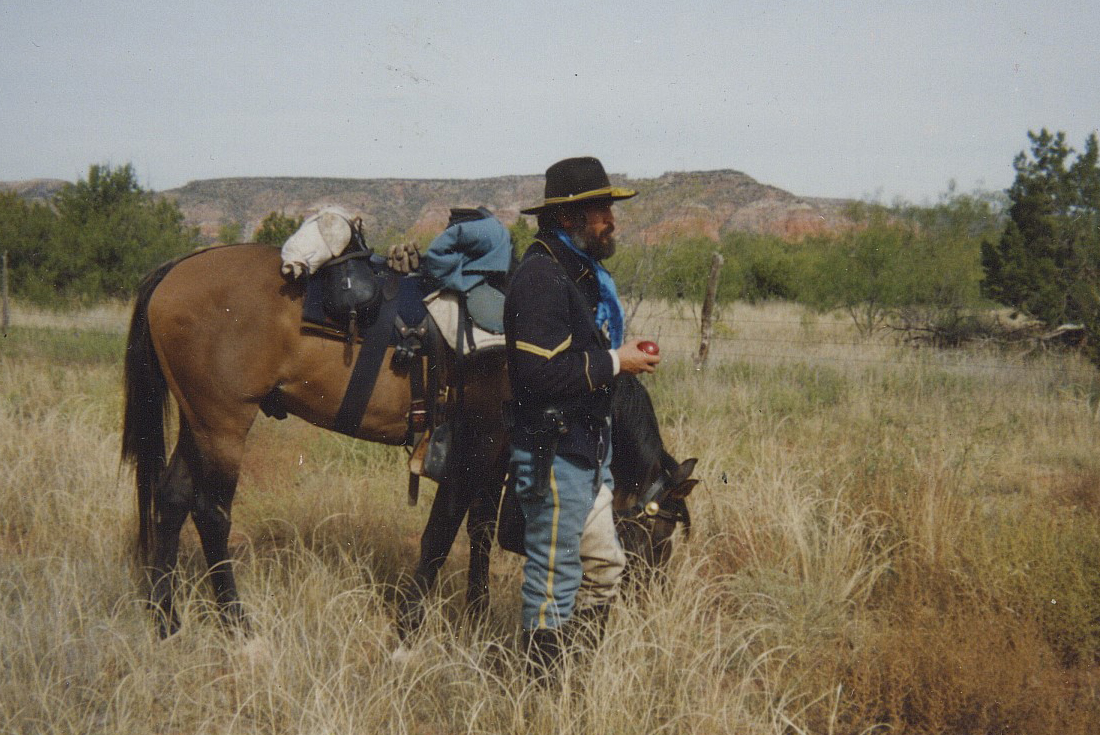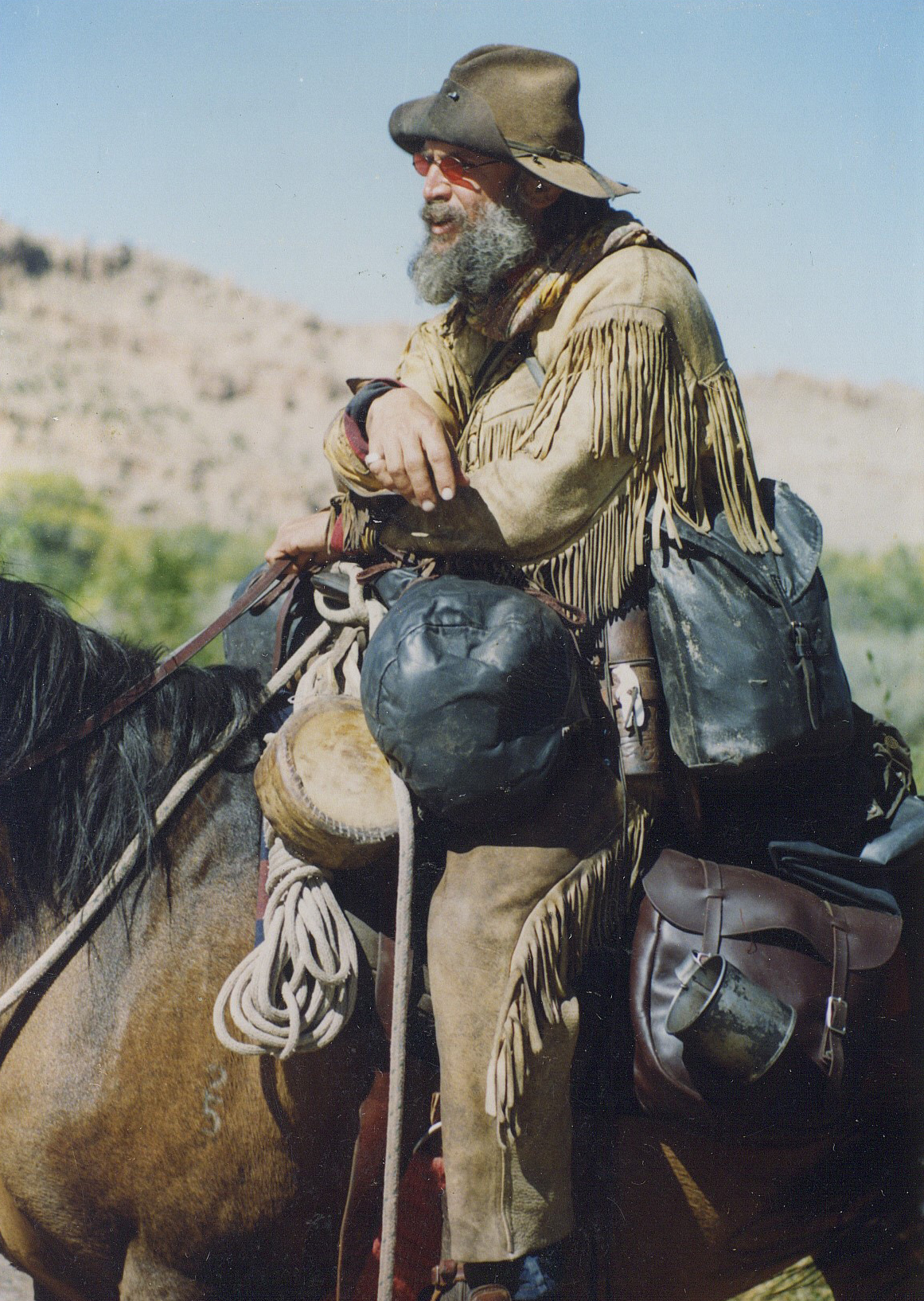 4/3/2018: Thank for being so prompt shipping my halter today. You are a wonderful person to speak with on the phone, you are very thorough in your explanation of things. I received the tracking notice. Many thanks. I am sure I will benefit purchasing from you in the future. Have a wonderful day. And thanks for working through the pressures there to assist those of us who appreciate everyone's hard work. sincerely, Kerry S
---
4/3/2018: Just letting you know that you guys rock. Order delivered and better than I thought it would be. Please to be doing business with you! Sol S., Gymea Australia.
---
2/27/2018: Photo of Dr. Jean-Charles de la Salle (my Civil War persona). You make good quality material. Now you can see it on someone!

Grant has been given a bad deal because of crooks in the government during his time in the White House. He nearly died broke because his son was betrayed by one of his fair weather friends. Some day history may get more of that straight. My other Civil War story is A Doctor's Diary During the War of the Rebellion--how I became a doctor of medicine and became attached to the Surgeon General of the USA, Alexander Hammond--who was sandbagged by another ambitious man, Stanton. However, in my book I also witness the death of my Great-great grandfather Ove Lind in Mississippi on February 4, 1864 during the Meridan Campaign. His brother Edvard Lind was in the Wisconsin 6th which was part of the Iron Brigade and was wounded at Gettysburg July 2, 1863. He survived the war. That's the medal I have in this photo. John S.
---
2/23/2018: Hi Folks, I received my (Slouch Hat with Ribbon Edge)hat and am very pleased. About 20 years ago my wife and I visited your store and purchased a union shell jacket and a Union Kepi for my wife's dress costume for the SASS annual shoot in the LA area. She dressed as the young lady in the film "She Wore A Yellow Ribbon". The clothing worked just fine, in fact it is still stored in a container for woolen articles. I am now 80 years old and am out of the shooting sports since cancer has rendered "parts" non functional for lifting rifles and shotguns. It was a very nice visit and it will be good doing business with you again. Wes S., Calrsbad CA
---
2/21/2018: I got my Confederate infantry uniform in time for Christmas and I absolutely love it! The quality of the time-authentic make, the reasonable price, and the overall comfort of it made it exactly what I wanted. I will definitely be shopping here for all of my Civil War clothing and gear. Thanks so much, Ben D. S., Grenada, Mississippi.
---
2/14/2018: Thanks for the items (CS Kepi and Belt). They are very good quality. Will make a great display. Dan A., Calgary AB Canada.
---
2/12/2018: A very good source for war between the states reenacting supplies. Mostly on-line sales. But A FUN Place To Walk IN If YOU Are Ever In Emmet! Jerry N., 5 Stars (Via Google)
---
2/8/2018: Still wearing my uniform after 17 years! Excellent goods along with excellent service!!! Fred M., 5 Stars (Via Google)
---
2/6/2018: Although my order was small, it arrived in two days from Idaho to SC! The items were exactly what I needed, looks great. I will definitely recommend to others in my SCV Camp. Great quality, great prices, and great Service! Thank you. Micheal P., 5 Stars (Via Facebook)
---
2/6/2018: Thank you for replying to my message and shipping it with such haste. Thank you all very much and your service is outstanding! John A. B., Rockwood TN.
---
2/5/2018: Hi Folks, Thanks for the quick turn around on my last order. You had requested some feedback on the budget line items I had previously ordered. So here it goes. I ordered the budget line jean wool shell jacket and kepi. I am very pleased with the jacket. The jacket is well made, the lining is very good and the size is bang on. I found that the buttons are very well sewn on. All in all the jacket is good value for the price. The jean wool kepi fits well and is a good hat. The only negative thing I would say about it is the brim seems smaller than other kepis. The brim on my artillery kepi is about 2 1/8" deep whereas the jean wool kepi is only 1 5/8". It looks out of proportion. In general I am pleased with my purchase. I ordered these items so I could make an economical switch from artillery to infantry by just switching jackets and hats. Regards John P.
---
2/3/2018: Dear C&C Sutlery Thank you ! I received my order just a few days after ordering . Everything was fine and every piece I order received. I'm so very pleased with the quality of the plates and bowls etc, something that can be handled down . I diffidently will be ordering again . Thank you again , Steve O., Oxnard CA.
---
2/2/2018: Dear C&C, What can I say, but "Wow!" I just order this stuff 2 days ago and it's here already. Exactly as I was expecting. Perfect! I will definitely be recommending C&C Sutlery to my friends! Sincerely, Michael D. P.
---
1/12/2018: Their level of service and desire to ensure the customer is happy is awesome. U. G., 5 Stars (Via Google)
---
12/29/2017: I have just returned from holiday. That´s great information! You made my day ;-) Thank you very much. I was afraid that it was lost or stolen during shipping. Sometime in January we are having meeting with few CW re-enactors so I will show them your products. I am sure we will order more from you. Enjoy New Year celebration ;-) Pavel P., Prague Czech Republic.
---
12/28/2017: Have ordered numerous times from C & C, very impressed with their customer service and quality of products. Steve C., 5 STARS (Via Facebook)
---
12/22/2017: OMG I was born Gem County Emmett Idaho long long time ago LOL. Freezeout was a two-lane windy windy road dropping into the valley from Boise. I used to ride Greyhound bus from Boise to Emmett and Emmett to Boise to visit relatives. Many of those relatives are still in Emmett at cemetery overlooking the valley. I was looking for a hat for my grandson happen to come across your website. Definitely will be purchasing a hat from you after the holidays. Steven A., Noblesville, Indiana
---
12/18/2017: Just received the cavalry martingale that I ordered and it looks great. Thanks for getting it here in time for Christmas! Merry Christmas and Happy New Year! Robert B., Oklahoma City OK.
---
12/17/2017: Greetings everyone: Thank you for the most recent shipment, with the leather and buckle assembly and the Union Sack Coat. The coat fits perfectly! Absolutely outstanding workmanship, thank you in great measure for your valued talent! Okay, my friends - wishing everyone a very memorable Christmas and a prosperous and happy New Year! Respectfully, Larry C., Watford City ND.
---
12/14/2017: They sent my stuff very quickly. And the quality is excellent. I buy all my CWR stuff here. Thank you for your Good Quality service. Michael P., 5 STARS (Via Facebook)
---
12/13/2017: I received the US roundabout shell jacket and as requested thought I'd send you my first impressions. Overall as a casual and not hard core reenactor, my needs are simple as far as costuming goes. I have previously dealt with a seller, Philadelphia Quartermasters, on eBay for items and your budget-line is exactly what they are passing as historically accurate high end civil war reproductions, and the 'best you can get anywhere' not surprisingly, at a higher cost than what you are selling yours for. The same item sells for around $99.00, so quite a profit margin. Knowing what I know now, I will certainly purchase from you in the future as the budget-line seems an ideal choice, presenting good quality and value for the price. Cheers. Roy K.
---
12/11/2017: Thank you for the second shipment - received today. Please convey my very best regards in appreciation for the superb workmanship; especially in the timely manner pressing your staff this time of year. The CSA sack coat is just a beautiful work of historic art - so well done! And please be sure to convey my very sincere thanks to Greg, who considered my best interests and was able produce the Great Coat! Wow, just absolutely splendid workmanship. Please convey my grateful appreciation to the employee who performed at maximum potential - and has a sincere heart to achieve the very best, thank you. Very Respectfully, Larry C., Watford City ND.
---
12/5/1027: I received the Artillery Ammo box today. I am extremely satisfied. This box will go very nicely with a Civil War display I am building. Thank you for putting the stenciling on the side as I requested. Best wishes and Happy Holidays. Jeff G., Richmond VA.
---
12/3/2017: Poul C., Galten Denmark
---
11/15/17: Hi, Just letting you know the cap & badges arrived today all in good order and I am very happy with the fit & quality for the hat. So, I wish to give a BIG Thanks to you guys over there for your great service in handling my order. Thanks again & all the best. Eddy B., Australia.
---
11/13/17: Order received. The vest is perfect. Thank you all so much for your attention to this matter and in the fine quality of the product. Regards, Bob H., Westland MI.
---
11/10/17: CC Sutlery has become my go to sutler for Civil War gear because of their reasonable prices, quality gear, and excellent customer service. My N.Y. state militia jacket in particular is awesome and I wanted to share a pic or two of me wearing it. I'd wear this jacket every day if I could. Ryan S.
---
11/2/17: 153rd Anniversary of Cedar Creek. By Pvt. Daniel Mallett Co. A 2nd NYSM / 82nd NYSV
---
11/2/17: Thank you! Really do appreciate your quality service and products. Very Respectfully, Larry C., Retired US Military, Watford City ND.
---
10/30/17: Just want to send you all at C and C a big thank you for your great products, big thumbs up! Thanks for your great service !! Bryan M., Bakersfield CA
---
10/20/17: I have ordered from C&C several times and have been very well satisfied with all items. I order the Budget Line clothing as I have two grandsons reenacting and the Budget Line items have worked very well for growing boys! I'm sure we'll be back for more. Renee E.
---
10/13/17: Jim H., Jackson MS.
---
10/6/17: Trousers - US Foot Sky blue - Budget-line. First, thanks for the prompt response and shipment of this order. The trousers are at the tailor at the moment getting their legs to match mine. So much easier to walk around that way. As for the review - the trousers seem well made, all the buttons are solidly attached, and the seams are well sown. The only difference I can note with these trousers is that the cloth is a much lighter weave than my other, more expensive pair. While they will more than stand up to ordinary parade use, they may be more vulnerable if put to heavy use. Someone heavily into reenacting might consider buying your better quality products instead. In my humble opinion, for the limited use they will see I definitely received my money's worth for these trousers. Dr. Daniel N., Fort Worth, TX
---
9/22/17: From C&C Sutlery Facebook Page: 5 stars. We have been very pleased with our uniforms and accouterments from C & C Sutlery! Jim H., Florence MS
---
9/3/2017: I love my Union Civil War budget line uniform. I think that my Union Civil War budget line uniform looks fantastic! Everyone that sees it gives me compliments! Thank you! Lucille B.
---
9/2/17: From C&C Sutlery Facebook Page: 5 stars. Postman came by the other day and dropped off a model 1860 saber from C&C. Exceedingly cool item. I really enjoy browsing their selection of old time gear. I've made three orders with them over the past three or four years and I'm sure something else will catch my eye and I won't be able to resist... Marcia P., Saskatoon Saskatchewan
---
8/31/2017: Hello, I wanted to let you know that I received the exchanged cadet gray shell jacket today and it fits wonderfully. Thank you very much for your help, and I look forward to ordering more gear from you in the near future! Cordially, Brian R., Birmingham, Alabama
---
8/25/2017: Thank you for such fast service and the item are just what I ordered. I was very surprised in how quickly my order was shipped. Your budget line items are just what I needed to help me get started in building my own ensemble. Again thank you and I look forward to doing more business with you. Thank, Troy W.
---
8/24/2017: You make a super great economy jacket. My name is Henry O and last year your company gave me advice as how to purchase a US Kepi and Shell Jacket. I was going to wear it at a High School while I spoke about the civil war. About a month ago, I went to a WWII reenactment, and just by coincidence one of the persons displaying his wwii relics had an original Civil War kepi and shell jacket. I was totally blown away that your economy product looked exactly like the original.!! As I was staring at the jacket and cap, I was amazed. I would highly recommend your products to anybody. Henry O. (Henry O-from yonkers,)
---
8/21/2017: Dear C&C Sutlery, First I wish to express my appreciation of the work you do. I am a Civil War Reenactor with the 6th Maine Light Artillery Battery F and the clothing and gear that I have ordered from you is superb. Not only does your gear perform well at reenactments and living history events, but it also does very well when just out to go camping. So thank you for providing me with hours of enjoyment with the hobby I love. I am seeking advice on how to wash and care for my shirts and drawers. What is the proper way to wash and dry them? Also with use, some of my undergarments are beginning to rip and tear in places, do you sell patches so that I can repair them? Oh, and a disclaimer, none of the damage to your product is due to any fault in your product, the damage has been caused by an overzealous young man who enjoys playing dress up! Respectfully, Morgan T. G
---
8/18/2017: Hello, I recently ordered and received a Budget line Union Cavalry Shell. Overall the quality was exceeding my expectations. The only thing I think should be changed, is the two rear discs should be more round, to improve the accuracy. Not necessarily circular, but not just a straight line like present. Thank you, Colton S.
---
8/18/17: From C&C Sutlery Facebook Page: 5 Stars. Today I got in my budget line frock coat and great coat, i also got a kepi and I was shocked on just high quality everything was! For now own I will always buy my clothing from C&C for now on! Thank Y'all so much! Colton G., McKenzie TN
---
8/14/2017: Hello there, I just wanted to provide some feedback on the bargain line Union Kepi and Confederate Captain of Artillery Kepi, as you requested in the shipment. I want to say that I am thoroughly impressed by the quality of the items, especially for this price! The wool is nice and thick, the lining is impressively done and I love the real leather brims. I am not a hardcore reenactor, so can't comment on a small inaccuracy that may exist, but for my level these appear to be perfect, so I don't really have any cons. So I guess I have no constructive criticisms to improve the line, but wanted to make sure I gave you kudos for a quality product. Thanks Matt Z., Marlborough, MA
---
8/11/2017: hello. I just got my order in the mail. right on time. as far as the budget line of clothing, I think it is awesome that you offer that especially for low income reenactors like myself. the quality is fantastic as far as I'm concerned. I love them. thanks for the budget line option. C&C is the only sutler I know of that does that. I used to order from blockaidrunner as I was instructed to by a member f my unit. now I use you guys and will recommend you to others as well. thanks, Alan A.
---
8/11/2017: Once again CC Sutlery has given me a top notch jacket. 5 Stars. Very pleased. Great quality...Great price! Tony S.
---
8/3/2017: Good afternoon, I received order 26078 yesterday. Thanks for the fast service and the excellent quality white shirt. I will be wearing it with pride, and I'll be certain to tell anyone who asks where to get one. Dr. Daniel L. N., Fort Worth, TX
---
7/27/2017: Thank you very much for the clarification I am incredibly excited to see these nice shoes I'm using them for an actress in an old fashioned movie I am making thank you so much, Charles S
---
7/25/2017: From C&C Sutlery's Google Business page: 5 Stars. A very good source for war between the states reenacting supplies. Mostly on-line sales. But A FUN Place To Walk IN If YOU Are Ever In Emmet! Jerry N.
---
7/25/2017: Hello, Just got my order, everything looks great, everything fits. Thanks - eric a.
---
7/20/2017: Review of budget CS Officer Colonel's kepi. This item exceeded all expectations; braid, Austrian quadrefoil, fit all excellent. I would be happy to recommend retaining these in stock. William F, Wentzville MO
---
7/20/2017: Sirs: The replacement grey confederate jacket arrived and was good quality. The only issue i had was the the CSA buttons were of such a size as that it was fiddicult to pass the buttons thru the button holes. A friend of mine had the same problem with a great coat he ordered from you and it worked great when he replaced buttons with his own pelican buttons. That is the only issue I had with the budget jacket. It is well made and otherwise a good buy, and I am recommending C&C to members of our color guard for a good quality but inexpensive outfit. Best wishes Ed E., Jefferson, Louisiana
---
7/9/2017: USPS delivered my [US] kepi yesterday. It looks great and is really comfortable to wear! Thank you! Daniel B., Alameda CA
---
7/7/2017: Hi there ... i wanna say thank you for the buget-line of clothings CS jean wool uniforms i got from you that i order last week .. they all fix good... i just order gum blank from you today .. thanks again Joe W.
---
7/5/2017: To who it may concern, I wanted to send you my thoughts on the confederate budgetline package I purchased from you guys. First thought as of seeing the box. It came in a chocolate chip cookies box. Gave me a good laugh thankful my neighbors didn't steal it just for the fact the words cookies could be read from drive way. I don't care about the box it gave me a laugh so thanks for that. To the uniform. I opened the box and the first thing on top was the kepi (which I had requested a federal blue per my units uniform) I was extremely impressed with the quality of it. I've bought more expensive kepis over the years that I paid more for and didn't have the feel that this one has. Nice thick wool , the chinstrap actually works and isn't made to look real which was great. I like the rough edge brim on it vs the other ones I've seen that have that rolled finished edge. Overall extremely impressed with it. Second was the shirt I purchased the solid blue one. To start out. It's nice and heavy material which may be a little hot at times but it means it'll last and hold up to abuse hopefully. Another thing I was happy to see is the sleeves are extra long and the shirt overall is long. I'm 6'3" with long arms. So I cannot express how happy I was to see this. Again overall impressed. The jacket was next in the box. Fit is good. I ordered two sizes up from what I usually wear in say a suit jacket. Has a good fit with room for movement and for a Vest underneath. And just like the shirt it has long sleeves which for someone my size is hard to find in a shell jacket so thank you. Was glad to see the lining and a pocket on the inside. all stitching is tight and the buttons are stitched on tighter than I expected them to be. Overall impressed again Jean wool pants came next. Overall fit was great, inseam I was also happy with me over 6ft. The buttons are stitched on like someone expected King Kong rip them off but suspenders will to that. I did not find any imperfections in the weave of the wool anywhere. Again I am impressed. The suspenders and belt were good quality as well I bought this partially as a test run trying to find a cheaper product, without sacrificing quality of the uniform to help direct new reenactors coming into the hobby without scaring them away at the fact they have to spend 500$ on their first uniform. Like I've said many time throughout this email I am extremely impressed and will direct new comers to your site. You have beyond met my expectations and kept it at a low $207.95 shipped to my front door Hope to make you guys out new "go to" sutler and will be ordering more from your company in the future and expect good things from them. The only thing I would like to see is possibility of carrying sizes larger than say 50 coat size as some gentleman coming in can be larger than some. Thank you for your time. Will H.
---
6/22/2017: Wonted to say I got my dress today and it fit perfect. Im sure Ill be ordering more. Thank you so much. Marietta J., Atmore AL
---
6/8/2017: Awesome, thank you so much! It was a stretch for me to buy this [1858 Remington Revolver] and i certainly had misgivings, I am greatly relieved to see this outcome ! At 75 yrs, and my legs crapping out on me, I just go to the grocery store or the doctors office, so I'll probably never shoot it, but I SURELY will admire it !! By the way, since you are in the Civil War business my great grandfather (paternal) was in the 13th Massachusetts (sp?) infantry, the duration and was at Gettysburg, among others. His son, my grandfather, was 61 when my father was born in Fairbanks in 1918, after going to the Klondike Gold Rush. So maybe I'll pop a cap at a bad guy on the tv screen and I'll think about going to the gravel pits in the '60s with my buddies and blazing away with our cap 'n' balls, and other weapons of mass dstruction, LOL ! This news made my day.....THANKS ! ROGER L., Stagecoach NV
---
6/8/2017: Gentlemen, I wish to thank you for the rapid production of and delivery of my new Union Kepi Hat. The Dayton National Cemetery Honor Squad had recently changed to the Kepi hat, unfortunately they were unable to find a hat that would fit me. I took it upon my self to find one and contacted you. The hat I received fits perfectly, is historical accurate and of high quality. Thank you again for your exceptionally quick response. Regards, Roger C.
---
6/6/2017: You all have made this hobby and passion much less stressful. I appreciate all the time you take to answer all of our questions. People who aren't hanging out at "battlefields " would just never understand the specifics of tons of different regiments and their individual authentication requirements. Stressful for sure to be a Battlefield Mom knowing they won't settle for gear or garment pieces that aren't exactly to spec. It's all part of the incredible respect these Reenactors Portray honorably. It is the least I can do making sure I get it right. What a learning experience I have been blessed with that Tyler shares with me . Speak soon , you know he's still growing ... Stefani D.
---
6/5/2017: Tyler D. At the Endview Plantation in Virginia for the Seven Days Campaign, On to Richmond
---
6/3/2017: Good evening, My four button, red check, budget line shirt arrived intact and on time. It had a far less adventurous time than my cavalry boots. As for feedback on the budget line ... overall nice shirt. Seems well put together and made of substantial material. It fits well and I expect it will adequately meet my needs for this shirt. The only down check ... the open gussets in the side seams are too long, ending more above the waist than below as they should be. It looks like a night shirt more so than simply a shirt. It is a minor problem, and my tailor will take care of that issue soon. Overall, I'd give it a 4 out of 5 for value for price. Dr. Daniel L. N.,Fort Worth, TX
---
5/22/2017: I ordered some items in December, to be honest I was quite impressed the quality was nice except the suspenders I bought, they hang way too low and the saber scratches way too easily, other than that, I was quite impressed, I will order from again. Trey C.
---
5/16/2017: Just read U guys talk about supplying costumes fore Torontino's film. I loved it! And your costumes as well, I guess. WELL U just provided costumes AND set pieces for a play that will tour Fringe Theatre Festivals this summer across the USA. And probably across Euope next summer. This is early, no releases written yet. U could be the FIRST! Chick out our web site: www.atlantaburnng.org Lance B
---
5/9/17: From C&C Sutlery Facebook Page: 5 stars. Always a pleasure to do business with you. Thank you for the fast shipment! Bryan S.
---
5/6/2017: Hi I have received my order. Very pleased, thanks very much. Best wishes George F., Coventry, United Kingdom
---
5/5/17: From C&C Sutlery Facebook Page: 5 stars. Just wanted to say i have made 3 purchases from C & C and have been very pleased. I purchased the Uniform package, not the budget line but the C & C product line. I've ordered an additional shell jacket just to have a different impression. brogans, slouch hat, shirts, eating utensils, kepis, etc. and I will never again order from anyone other than C & C. I am from West Virginia and have many sutlers to choose from but it's worth the extra long shipping. Friendly, timely, willing to help, great people and great products. Tony S., Big Chimney WV
---
5/4/2017: First time orderer, Fantastic service. Thanks, joe L., Watervliet, NY
---
5/2/2017: Dear Sir or Madam: I received the kepies yesterday. The quality of workmanship and materials used are excellent. The shipment came unexpectedly because, as far as I can see, I was never sent a tracking number. Again, I thank you for the high-quality American workmanship! V/R, Captain Robin M. C., Houston TX
---
5/1/2017: I received this weekend the Budget-line Confederate Frock Coat that I ordered earlier in the week and I am quite pleased with it. I am also pleased with the fast turnaround time from my phone order to the delivery of the garment. For those looking to get involved in living histories and or reenactments, the high prices being charged for reproduction uniforms and clothing of the Civil War time period these days, can become a big deterrent. With your "Budget-Line" items its nice to have a resource were the beginner, or even a long time veteran of living histories and reenactments, can obtain a good garment item that is both affordable and very serviceable. Bruce S
---
5/1/2017: From C&C Sutlery's Google Business page: 5 Stars. Still wearing my uniform after 17 years! Excellent goods along with excellent service!!! Fred M.
---
4/29/2017: Order came today... very pleased with the items! If I have need of something in the future, C & C will be my first stop. Bill W.
---
4/27/2017: Killer Angels promo artwork. Brian N.
---
4/26/2017: Wish I'd found you sooner. Hi, Was looking through your website tonight and I wish I'd gotten started with trying to put together a US Civil War Chaplain's outfit sooner. We're doing living history the first Friday and Saturday in May. Last weekend I found and purchased a Scully's vest in blue wool that cost me more than your regulation black wool Chaplain's vest. <sigh> I did order the hat cord and wreath from you tho. Bill W.
---
4/25/2017: From C&C Sutlery's Google Business page: 5 Stars. Their level of service and desire to ensure the customer is happy is awesome. Ugly George
---
4/21/2017: Well Done C & C Sutlery. I just want to thank C & C Sutlery for their customer support and timely delivery. A minor glitch with international shipping was handled promptly and I received my order within the time stated. The Confederate uniform fits perfectly, is of excellent quality and has exceeded my expectations. If you follow their sizing instructions you will have no problems. I will be placing more orders in the future and will recommend their products to others in our reenactment group. John P.
---
4/19/2017: Thanks for packing the lanterns so well they arrived in perfect condition just in time for our event k ziegeler
---
4/17/2017: Hi folks I received my Confederate frock coat last week. It's beautiful, thank you very much. With a cigar I feel just like Longstreet. William P., Calgary Alberta
---
4/16/17: From C&C Sutlery Facebook Page: 5 stars. I ordered a Union Uniform package from these guys and the quality is great! The uniform over all is better than most I have seen or maybe even the best. The workmanship put into this uniform really shows that they care about their customers. Although I received everything but my suspenders, and it shows clearly on the receipt that suspenders were supposed to come with it, I didn't get them. Over all these guys are definitely the best in the uniform making industry and I would recommend them to anyone that want a high quality uniform! Tanner D.,
---
4/6/2017: I bought the Budget line Sack coat the color is great and so is the look. So then I just bought a pair of pants and the color matches the coat good too. Thank you for having a budget line that looks good. CWR stuff is high priced this helps us new guys a lot to have a lower priced line. I will buy more budget items in the future. Thank you a happy customer.
---
4/4/2017: Hi Greg, I received my Sack Coat yesterday and wanted to let you know the fit and product is perfect. I also appreciate you working with me on the exchange and getting the fit right. It's not too often that one receives this level of customer service and it is greatly appreciated. I will recommend CC Sutlery to all. Russell G
---
4/1/2017: From C&C Sutlery Facebook: 5 Stars. Reasonable price for such a high quality garment (Union shell jacket) and received several days earlier than expected - two good surprises. Anne D. H.
---
3/31/2017: Hello, I received the kepis today. These things are awesome! Thank you again. - Paul B., Cleveland Heights OH
---
3/27/2017: Pards, I recently bought your 'budget' bummer. I just want to say Im very impressed with the fit, quality and authenticity. Nice job! Been reenacting for about dozen years, so seen a lot of 'stuff' and a lot overpriced. Good value on this hat. keep up the good work! steve
---
3/24/2017: Dear C&C Sutlery, I recently received my second pair of trousers from your budget line collection. I have both the sky blue and Navy blue infantry trousers. The Sky Blues I purchased in a size 48 (I am a size 44 jean and per your recommendation I bought two sizes bigger) they fit well and loose, the pant bottoms needed to be hemmed for my specific length but the quality and look of them was very good. The Navy Blue trousers I purchased in a size 46, to see if a smaller size would affect the length, these fit PERFECTLY. Both the length and the waist of the trousers are very well fitting and comfortable. For someone who needs a quality uniform but doesn't have the funds yet for a hand made/ higher quality one, I would definitely suggest that they check out your budget line products. I thank you for your speedy delivery of my last order and I will be ordering more products from you in the future! Sincerely, Mr. Z Mears
---
3/21/2017: Thank you so much for the amazing, quick coat!!!! We were celebrating our 25th anniversary and few days early with a seafood fest in our cast iron cauldron. And the coat I ordered for him was a huge hit!!! Told him after 25 years of putting up with me was like a war. Lol. to share a few pictures! Was going to link on your Facebook page but wasn't sure if you still use that. Thank you again very much!!!! Rose and Brett B.
---
3/13/2017: I got my Union Kepi today, it looks great and is nicely made...thank you!! Craig I., Wasilla, Alaska
---
3/10/2017: Got both blue and grey shell coats. They look right fit right feel right. Nice that they are lined, top button hole could be a slight bit larger just for use. When you have to wear either color its nice to be able to save a few dollars and still get a proper look. Carter S.
---
3/6/2017: i got my order today with a letter asking to send pros and cons so here is my response....i have been reenacting civil war for about 16 years now. i found C&C to be one of the best quality and most affordable sutlers ive yet worked with. my order was correct, very quick shipping and being a low income guy, i cant complain about price. very likely to suggest C&C to anyone who needs supplies. thanks. Alan A.
---
3/5/2017: My order Came in over the weekend every thing looks great thank you so much im very help with my order. Jeremy B.
---
2/23/2017: Thank You C&C By Doing it the right way. My New York Stat Uniform by C&C was custom made around This Tin type Photo and 2nd Corps Badge of Pvt. Daniel Mallett Co. A 2nd NYSM/82nd NYSV Light Infantry. The Uniform was made March 2015 since I have had this Uniform and had worn it in many Events & Battle Re-enactments it still looks great. I have had many great Compliments on it & was asked who had made it and telling them that only one Company that I can trust and that is C&C Sutlery of Emmett Idaho U.S.A. Once again Thank You Greg for taking the time working with me to get this right. Greg D of Brooklyn
---
2/22/2017: I just wanted to thank you so much. I received the uniform jacket, it fits great, and the timing was perfect. I'm a park ranger at Ford Verde State Historic Park, in Camp Verde, Arizona, and we have quite a few school groups visiting during the next month. I'm sure I'll be ordering more soon. Thanks again! Brian J. L.
---
2/20/2017: Dear C&C Sutlery I recently received in very good order the Budget Line items which I had ordered: a Union shell jacket, waistcoat and infantry trousers, along with a forage cap and suspenders. I must say that if these are your 'budget' items, you are doing very well indeed, for I found them to be of excellent quality, were well put together, fit well, and very much had the right 'look'. They also seem durable enough for all the wear I would give them. All in all I was extremely pleased with them. The infantry hunting horn insignia which I also ordered has not arrived yet, but I presume it will. Thank you for providing good quality items at a price that was very affordable. Yours aye Victor S., Merrickville, Ontario, Canada (Some 10,000 Canadians from Ontario served in the Union Army)
---
2/16/2017: Order [C&C Sutlery US Sack Coat] arrived today and looks great! I'm impressed with your customer service and will definitely recommend and buy more from you in the future. Thanks! Walt B., Humble TX
---
2/16/2017: Thank you once again for the great products and equally great service. Enclosed is a picture showing a recreated Butlerville Minuteman, 9th Indiana Legion, July 1863, sporting his new coat from one of his favorite Sutlers! Best to You All, Nancy and Rick A., North Vernon IN
---
2/13/2017: Jean Wool Clothing. Dear C&C, Thank you very much for the rapid order. I really love the pants, shirt and vest. The top two buttons on the vest open nicely and lay easily as a civilian style lapel. The top of my apron attaches nicely to both the pewter buttons on the shit and the wooden buttons on the vest. I love the look and feel of the shirt. The pants are almost perfect on length such that I can cover them with a pair of spats and do nothing more. I was a bit concerned over the scratchiness of the wool, but after wearing them a couple hours around the house I no longer noticed. I may yet use a pair of long drawers for some added comfort. Thanks again. I am very happy with my purchases. Cheers, John
---
2/12/2017: 150th Ann. Battle at Gettysburg Pa. July 3rd Pickett;s Charge High Water Mark at the Angle Photo by Greg D. Co. A 82nd NYSV
---
2/8/2017: Kepi: G'day guys. Just letting you know. Have received it. Its bloody awesome! Great work. Thankyou so much. Warm regards Christopher F
---
1/31/2017: Budget line: Very satisfied with my items, they were described very accurately. The only tricky part is the difference in sizes. I would like to order the confederate great coat. Do you need to up size this as well ? I measure out at size 46. Thank you Gary J., Winchester, Ky
---
1/24/2017: I purchased a [budget-line] US Officers Sack Coat, Lined and am very pleased. The sizing is perfect and the workmanship looks great. I will be using it with Buffalo Soldiers chapter, which I have just joined. The other items that I purchased also seem to be made well for the price.. Again, the budge line sack coat was certainly worth the special price. Trooper Charles A
---
1/23/2017: c&c Sutlery, thank you for the item of the Civil War leather bridal and headstall, it is of superior quality leather and quality craftsmanship,and the size and specs are right on the money, excellent quality item, thanks again Jim O., Port Allegany PA
---
1/17/2017: Thank you and everyone at your company. Everything was spot on. Scott N., Williamsport MD
---
1/16/2017: Good afternoon! This has taken me a while to get to, and I'm sorry. On the other hand, I still haven't worn the uniform for reenacting, so even as late as it is it may not be as useful as you hoped. I ordered a budget-line uniform package from you in mid-December. I was a little cavalier with my measurements for a couple of reasons: 1. I'm a woman, reenacting as a man, so the waist and chest measurements were never going to be right (for waist I sent you my hip, and I sent you my chest knowing the jacket and vest were going to be too big everywhere else). 2. I intended to alter the garments anyway, both to sort of put my claim on them, and also because I knew they were going to be the wrong proportions. 3. I wasn't entirely clear on what (men's) size I wore. However, when the uniform arrived, I was pleasantly surprised to find the amount of alterations I needed to make relatively small. I had to take in the pants at the waist and down the leg (I could take a fist of fabric at both hips while wearing them, and I think one and a half of my legs would fit down each leg). The sleeves of the undershirt extended past my fingertips. The vest fit pretty much perfectly, and while the jacket was a little too big, over the other clothes, the too-big jacket actually suits my impression. In terms of ease of modification, I appreciate the budget line because the seams are a shade less careful. It took me almost no time to rip the seams out to remove the sleeves of the shirt to make them shorter (I shortened them at the shoulder instead of the wrist to avoid redoing the cuff). I also didn't see any red flags in terms of seams I wasn't ripping out, loose seams, knots in thread, anything like that. Like I said, I haven't actually worn them in an engagement yet, but so far I have NO quality complaints. Pros: budget-friendly for a new reenactor trying to build up gear. Very easily to alter for better fit, and I didn't feel guilty about cutting up super expensive clothes. Looks authentic-- to this newbie, anyway. Cons: ...? I maybe wondered if the pants had been mis-sized; I followed your measuring directions for picking the widest part of me (in my case, my hips) and they were still too big even in the hip. But even then, I was modifying them anyway, so it barely mattered. I've got no complaints! Cheers, Elizabeth M
---
1/16/2017: Hey just wanted to thank you all for the amazing job on the [North Carolina Sack] jacket I purchased. It fits like a glove and can't wait for our reenacting season to get back underway to wear it out. Again thank you so much!! Scott J.
---
1/12/2017: All good my friend. Ty is getting the info on the Zouves uniform and all the exact pieces he needs. Think yo I'll get into making that? Live to give you the business . By the way he digs the lantern that makes his room really tie in to a Civil War Era Room . . It's really a cool museum / Lincoln library with all books signed by authors . He changes flags once a month . He just inherited an1860 light Calvary sword from my big brother , Tys hero who we lost in September picture of Ty in his C&C soldiers uniform on the way to Constitution Island at West Point to do a day of living history. Stefani Diana
---
1/11/2017: From C&C Sutlery Facebook: 5 Stars. The craftsmanship on the ammo crates is stunning !!! Timothy D. B.
---
1/9/2017: Dear C & C, We ordered a confederate calvary cap and vest for my husband for Christmas and we could not be more pleased with your custom work! The materials and craftsmanship are exceptional. My husband, Doug Senteney, had a first cousin Pembroke Senteney, Lt. Colonel, who fought along the Mississippi River and who was killed in action at Vicksburg. Pembroke's sword was passed down and now belongs to Doug. Picture attached. Thank-you so much! Sharon E
---
1/9/2017: Howdy, Everything showed up today and it all looks great. Now to figure out how the old timers made a canvas covered cartridge belt out the belt. Thanks Steve S.
---
1/2/2017: Happy New Year! Civil War Weekend in New York City submitted by John S.
---
12/30/2016: Hello my name is Joshua S. I recently purchased the CS Shell Jacket-Budget-line- Lined, Cavalry- Size 50. Pros- great appearance, the buttons are terrific much better than I imagined they would be. The lining of the vest of the jacket is nice and smooth. Cons- Sleeve lining is scratchy, clingy/ tacky it grabs to your skin as well as to your shirt I almost don't want to wear it for the way it scratches your arm. The cuff of the sleeve is far too big for the jacket there is no taper to the sleeves to the cuff. The cuff is far to bulky with excess material. Also the length of the jacket is very disappointing, I bought a size 50 cause I worried about the length, even the size 50 is nearly too short. Overall I was very disappointed with the length sizing of the jacket, the bulk of excess material in the cuff of the sleeves, and the sleeve lining materials. I do like the buttons very very much though. Best Wishes, Joshua S
---
12/20/2016: OMG!!! You totally rock!! Thank you sooo much. Everything looks good- very happy!!! Thanks! Liz I
---
12/16/2016: the 5th NY Zouaves in the Remembrance day parade ...November 19th (Ty is 3rd from the left). Stefani D
---
12/16/2016: mother and son portrait. son going off to war. photos by rob Gibson ... The best in the business. Has done all the stills for the movies Gettysburg, gods and Generals , glory ,etc... he uses a real 1860 tin type camera. He is the Best. He knew i wasn't the lace bonnet kind of mom right away. he nailed it. Stefani D
---
12/13/2016: From C&C Sutlery Facebook: 5 Stars. Kyle M.
---
12/5/2016: Thank you so much, i am trying to ge a few more guys intetested in reenacting and soon as i do your are number one on the list for supplies. Bryan S.
---
12/3/2016: I want to thank you for your help and the excellent piece that I purchased from C&C. Will recommend you to my friends. You get FIVE STARS. Be well. Satisfied Customer. Tom T., Evans GA
---
11/30/2016: Hello, I got the Cavalry/Artillery boots today and I wanted to drop a line and say Thank You. The quality and fit are wonderful, much more than I expected. I wish some of my name brand cowboy boots fit and were made as well. I am a first-time buyer but, I know I will be back. Sincerely Phillip E
---
11/30/16: From C&C Sutlery Facebook: 5 Stars. Just received my new Infantry trousers and suspenders from C & C Sutlery today! Everything fit very well and I was very pleased with the quality as well as the delivery time! Thank you very much for your service! Zachary M.
---
11/24/2016: Thank you for keeping me informed [Hardee Hat], it's refreshing to see a Sutler that informs the customer . Too many that I've dealt with, keep you hanging and don't mention an item being out of stock until you get the order with no tracking updates. I appreciate the first class service, I will be back for more soon ! Best Regards, Mike S
---
11/24/2016: Good afternoon, I received my order. The items [Cavalry Bridle, Curb Bit, Reins] are excellent. Thank you very much and see you soon A greeting. Alberto H, Oviedo SPAIN
---
11/22/2016: Dear CCSutlery, Thank You All So Very Much - I received Order Number X this noon and am extremely pleased with everything! The advise given for the Union Enlisted Shell Jacket was right on. You certainly know what you are doing. I still have another order coming - Order Number Y. I am certain that it will be equally pleasing. A Very Happy Thanksgiving to You and Yours~ Vernon W., Palatine Bridge NY
---
11/16/2016: Greg, Hope this finds you well. Lisa and I returned from our Monument Valley adventure and sure enough we won the outfit prizes as Lt. Cohill and Miss Dandridge! THANK YOU for helping us look great!!! Everywhere we went we received compliments and about our outfits and even strangers were approaching us saying, " Oh My God, your from "She Wore a Yellow Ribbon"! I also want you to know that Lisa's coat was a spot on match for the original that Joane Dreu wore in the movie! They had it on display at Goulding's Lodge so we are attaching a few photos of it and us. Thanks again for all of your help and patience getting us to look "Hollywood" perfect! We spoke very highly of you so if you get any calls from Great American Adventures you will know where the referral came from! I look forward to working with you in the future!! Regards, Steve S
---
11/11/2016: I wanted to thank you for making sure that these [knee flap boots] got to me before today, Veterans Day. They arrived yesterday safe and sound, and I am very pleased with the boots. I've paid a lot more for a lot less. Cheers, and thank again. Michael S
---
11/5/2016: Greg, I wanted to post this photo of me at my ancestors grave in Nashville TN. The quality of your workmanship is superb. The authenticity of the uniform is unbelievable. If you are looking for a true exact copy of an original War Between the States uniform, either Confederate or Union you will not find any better than C&C Sutlery. JD Poss, Idaho
---
11/5/2016: Greetings! Budd and Beverly Kendrick told me you would be willing to post some photos of us in uniform. The one photo is of J.D. Poss, taken as he travelled through the South visiting historical Confederate sights.
The other is of Charlie Skaug and Evan Skaug.
All three uniforms were purchased at C&C Sutlery. We are all members of the Idaho Sons of Confederate Veterans. For more information about the SCV, people can log on to SCV.org, or email us at scvcamp2244@gmail.com. Thank you very much. Deo Vindice, Charlie Skaug, Adjutant, Cpl. William Mink-Idaho, Camp 2244
---
11/3/2016: From C&C Sutlery Facebook: 5 Stars. I have placed several orders with C & C and couldn't be happier with their workmanship and service. Will be my go to civil war reenacting sutler going forward. Alan H.
---
11/2/2016: Hello! I'm extremely pleased with my recent [4 bone ruffle hoop ] hoop skirt purchase! !Now how is best to store it? Thank you! ! It worked perfectly for my costume! Heather S
---
9/27/2016: I received the budget artillery shell jacket. I also got your request paper asking for a my thoughts I the item. It seems to be pretty good, light weight wool as described. My only real complaint is the stitching is could be allot better. I found loose threads and the the button holes are very bad. Some not even finished around the hole. The fit is good but it looks like I'm going to have to restitch all the button holes. Hope that helps you, thanks. Wade C
---
9/25/2016: Everything [Uniform] is working well! Fast delivery! Working on a school grant if I get it will be ordering more. Thanks! Jeff B
---
9/24/2016: Dear CCSutlery, Following my previous testimonial on 08/20/2016, After the college library's Book Week (Book Character Day) event on 08/26/2016 in Western Australia, I wore the uniform again then I took a free time to do a photographic manipulation. This time, I've made myself just like in the old day civil war photos. It's turning up myself becoming my own fictional ancestor who was involved in the civil war. Then I showed it to my friends and asked them if they'd like to see my ancestor?! All my friends really do love it and some of them asked me "Where did you get the uniform!" So I replied "Just go and check CCSutlery.com!". The uniform that I got, not only just for reenactment and Book Week event but I can also use it for any special occasions (especially for graphic design work and photography) Thank you again CCSutlery! Kindest regards, Herman, Willetton, Western Australia
---
9/23/2016: Items from me ordered have arrived. The jacket and the pants are perfect, both the size as they are finished. You make fantastic products, I made them see to friends who share a passion for the American civil war, and they too have appreciated the high quality of the uniform. In Europe they are not products so well made, it is a pity that the products have the 49% of customs duties (€98) This prevents for me and my other friends to make additional purchases is a shame because the value for money is very good. In Europe there are only produced on American civil war made in India or Pakistan made really bad and at high prices. Thanks for making me such a beautiful outfit. Luca R, ITALY
Here is the original untranslated email:
Gli articoli da me ordinati sono arrivati. La giacca e i pantaloni sono perfetti, sia la taglia che come sono rifiniti. Fate dei prodotti fantastici, li ho fatti vedere ad amici che condivido la passione per la guerra civile americana e anche loro hanno apprezzato l'alta qualità della divisa. In Europa non si trovano prodotti cosi ben fatti, é un peccato che i prodotti abbiano il 49% di tasse doganali (98€) questo impedisce per me e a altri miei amici di fare ulteriori acquisti é un vero peccato perché il rapporto qualità prezzo é ottimo. In Europa si trovano solo prodotti sulla guerra civile americana fatti in India o Pakistan realizzati veramente male e a prezzi alti. Grazie per avermi fatto una così bella divisa. Luca R
---
9/22/2016: From C&C Sutlery Facebook: 5 stars. I've just received my second order from C&C Sutlery - I'm now working on my third. Staff are attentive, helpful and respond rapidly to any queries or questions. The quality of all items is excellent and the range of products is extensive. I would highly recommend this business without hesitation.
[Advice for overseas customers: freight is inevitably expensive, so consider a large order to make freight costs worthwhile]. John P.
---
9/20/2016: Dear Charles and Dee, Here are two Pictures. The first is at the Jefferson Davis Museum in Biloxi, MS. The second is at the Jefferson, TX Civil War Symposium. Try this for a blurb with the uniform. "I thoroughly enjoyed wearing the CC Sutlery uniform while selling my 5 star rated novel, Asunder, A Novel of the Civil War. I was on tour throughout the South. The book and uniform were both very well received. - Curt Locklear, author. On Amazon and BarnesandNoble.com" Feel free to edit. Let me know when you put it on the website. Blessings. Curt
9/19/2016: Hello, I don't know if you remember talking with me but I bought a cavalry jacket and hat from you and I wore them at my book signings in the south. Let me know if you'd like me to send you some pictures. Very best wishes, and I love the quality of your products. Curt Locklear Author of Asunder, A Novel of the Civil War
---
9/19/2016: I just wanted to tell you that my new orders came today, and my belt fits perfectly. Everything is great, and many thanks!! I will be passing your name around to all of my friends in the field. Plus, I will be placing many more orders in the future. Thanks again, David M
---
9/18/2016: Budget Line Clothing Review. Good morning, I don't know how helpful this review of Budget Line Clothing-pants will actually be so I shall submit it in the hopes that you can glean some use out of it. In the spring of 2016 I purchased two pairs of pants and some shirts for our 18 year old son to wear all summer at Philmont Scout Ranch as a counselor in the living heritage portion of the camp on the 1875 Homestead (Crooked Creek). One pair- the butternut full price trouser was worn every single day of work (from May 26 until August 16!). He took to washing them by hand and drying them on a tree on his days off (when he could wear his boy scout uniform). The other pair (gray budget line trousers) were worn one day. When I asked why they were so unsatisfactory he reported that "the legs were too wide and they felt like clown pants and they are itchy". I don't know if this is really helpful. Perhaps the civil war uniform calls for wide legged pants. The other male members of the team at the 1875 Homestead wore "cotton rags" that were handed out at the beginning of the summer from the costume closet. Maybe those had narrow pant bottoms? I do not know. As I write this I realize that it is more of an endorsement of the butternut colored wool trousers than a condemnation of the budget line pants. Those butternut pants came back in fine shape from the dry cleaners the other week. There is a small hole in the seat (not on the seam) where Ricky caught them on a tree branch while felling a tree and dragging it through the forest. The budget line pants? Well, they are still brand new! Thank you for your beautiful and durable clothing. I'm attaching two pictures of the summer, one at the beginning and one near the end. I'll be in touch next Spring for some more pants. Ricky has already informed us that he is heading back to Philmont for another summer. :) Best regards, Caroline Y. PS- He loved his shirts and the vest. He wore the vest in the mornings and evenings to keep warm. It held up very well. PS- He is the young man with the red checked shirt in both shots….and of course, the butternut pants!
---
9/16/2016: Our [Sargent's Wall] tent arrived yesterday---6 days after ordering---with a week to spare before our reenacting event next Thursday! We are so happy! It's beautiful. My daughter slept in it last night---and it rained, but it did not leak! Thanks for a great product, and great customer service! We'll recommend you to others! Blessings, Mary K., Hillsboro WI

---
9/14/2016: From C&C Sutlery Facebook: 5 stars. Got my Gen.Lee Back Door uniform, absolutely love it, fits perfectly, quality is awesome, told them needed asap, got it two weeks ahead of schedule, first time buyer, totally satisfied, Thank You Craig. Ron S.
---
9/10/2016: Budget-line item feedback. I was buying stuff for my son, who just recently started doing reenactments. I'm not too familiar with what's required myself, so I thought this was a great package. It was easy and relatively inexpensive. I'm not an expert, but I thought the quality of the products was pretty good. My son commented that he liked how the jackets were lined, so he doesn't have the raw wool on his skin in the heat of the summer. No complaints. Eric F
---
9/7/2016: Just a line to say I am very pleased with the new budget-line uniform. The weight is more in line with Texas weather. Everything fits well. You were very easy to work with and I appreciate your patience. I will be back for more in the future. Sorry it took me so long to respond, we have a major house renovation going on. Everything is a mess. Eldon T
---
9/7/2016: Received the trousers. They are good to go and ready to be used. Thanks for your help, David F., Gray TN
---
9/5/2016: I just want to comment on the Budget Line Clothing I ordered for a Historical Pageant that our Museum is preparing to present. I ordered the budget line Union trousers, shirts, suspenders and Kepi Hats. I want to say they are good quality and very serviceable for what we need. The Union trousers might be a bit closer to black than blue, but they look nice, are well-made and with the exception of clipping a buttonhole or two and hemming, they were ready to go! Sizes are good and the way they are made does allow some for adjustment. All in all, they are a very good value for the money and fit our needs very well. Thank you so much for your prompt service and attention to my order. If we are in need of Civil War era clothing again, I will be sure to contact you! Thanks again, Kay M., Albany Historical Society
---
8/31/2016: Hello, I recently purchased a shirt in your new budget-line of clothing. I found the shirt to be economical and well-made, considering the price. The lightweight cloth is very nice and is perfect for hot-weather events. Thank you for your help! Charles L
---
8/28/2016: Order came today. Fits great and love the coat. Great Job. Rachel S
---
8/25/2017: From C&C Sutlery's Google Business page: 5 Stars. I ordered both budget line and c&c reproductions an they are wonderful. The only place I trust to make my uniforms. Whispering Fartz
---
8/26/2016: Just received the new Confederate Shell Jacket with the Infantry Trim. It's perfect !!!!!! Thanks so much. I'll tell everyone about you guys. Loved doing business with you and thanks for the suspenders. Deo Vindice! Regards, Brian
---
8/23/2016: Received these boots [Knee Flap] yesterday. They are great. Thanks for sending them so quickly! Fletcher B.,Salt Lake City UT
---
8/20/2016: Package received today. Everything [Four Button SHirt, Canvas and Leather Gaiters] is great. My son loves the items. Thanks again. Eric B., Manassas VA
---
8/20/2016: Dear Staff of CCSutlery, I have purchased the custom made size for a union shell jacket and the budget line for the trouser. Finally I have managed to arrange all Union Civil War uniform for a Book Week Character day on August 2016 at School Library in Western Australia. The character that I presented, it's a fictional comic character of Sgt Chesterfield from the graphic novel comic "The Bluecoats". Thank you again for all your help for all my uniforms and the presentation has gone very well. :) I am so happy with the uniform and feel very comfortable to wear it. Also it is my very first time to experience and to wear the most iconic and historical uniform of the US Civil War. Definitely I will come again to CCSutlery! Kindest regards, Herman, Willwtton, Western Australia
---
8/19/2016: Greetings from Oklahoma! Hope all is well with you kind folks. Just a note to say the Cavalry boots I ordered arrived. I am so pleased with them The fit was perfect! I will be ordering again to get an enlisted cavalry outfit. Should go over great with my friends. I will let them know about your online store. Again, thanks for a quality product. Ronald R
---
8/17/2016: Tyler D wearing a C&C Sutlery slouch hat while visiting Manassas Battle Field:
---
8/12/2016: Hello. The vest arrived some days ago. It's great. Thank you very much, Thomas W., Switzerland
---
8/11/2016: HOWDY, THIS ORDER ARRIVED TODAY. NICE GOODS..[Knee Flap] BOOTS FIT JUST FINE, SHELTER HALF OK TOO. THANKS PETE R., Attica IN
---
7/13/2016: Old World Wisconsin, Eagle WI Civil War Camp for kids entering grades 5-7.
---
7/27/2016: From C&C Sutlery's Google Business page: I ordered both budget line and c&c reproductions an they are wonderful. The only place I trust to make my uniforms. 5 stars.
---
7/23/2016: Saturday morning in Union Camp. 155th anniversary 1st Battle of Bull Run. Photo by Greg D Co A 2nd NYSM.
---
7/20/2016: Thank you for responding so quickly regarding my order. Everything I have ordered from your company has been outstanding and great quality. It is a great to deal with such a wonderful company. I have recommended your company to all my brothers in the Sons of Confederate Veterans. Thanks again, Chris
---
7/18/2016: Thank you very much I will highly recommend you to all my fellow reactors,! Daniel G
---
7/13/2016: From C&C Sutlery's facebook page: Just ordered from C&C! Very respectful people with EXCELLENT quality! I recommend C&C to everyone looking for good American Civil War uniforms/equipment. Thank you C&C! Both for being respectful, and for selling very good quality items at very affordable prices! Thank you very much and God bless. Julian T. 5 stars.
---
6/26/2016: One of our C&C Sutlery customers attend Custer's Last Ride June 18-26, 2016 at the US Cavalry School Montana. Here is a promo video for the event. Here is the article from the Billings (Montana) Gazette regarding the event as well as a photo and quotes from Warren.
Below follows Warren S's report:
Commemoration of the 140th anniversary today, June 25. Custer orignially had 212 men. We had just over 200 mounted calvary. The Indians overwhelmed us. Two Indians grabbed me from my horse, knocked me to the ground and "killed" me with their tomahawks. While this was happening I was screaming wildly and firing my revolver. After the battle, I was part of the wreath-laying ceremony for the Unknown Soldier. Also, I was one of the 12 men selected to be part of a promotional video about the Little Big Horn Battlefield, which was filmed yesterday at the edge of the Little Big Horn River. I'm happy to say I narrowly escaped a six-foot rattler during filming. I will be giving the evening talk about making a fire with flint and steel. Only once per year, 16 are allowed by the Montana government to ride on horses with weapons up to Last Stand Hill. Tomorrow I will be one of the 16. It will be a very moving and proud moment for me.
June 23 - We made it! We have arrived at the Custer Battlefield. Temperatures still near 100. Terrain was difficult, narrow paths with 100' drop-offs on either side. I''ve certainly improved my riding skills. The Billings Gazette was here talking with many of us. We are just a few miles away from the site where the battle will take place!
Day 2 - 6/21 - Fed and watered the horses at sunrise. My horse's name is Bandit. Rode just under 20 miles on the open plain and across rivers. At times water level was half way up our boots. Saw 3' rattlers on the trails. Temps were at 100 degrees. Due to the heat, we each got two canteens. Flies were bad. We did the 20 miles in full marching order. Had grain bags on the horses. And a full train of pack animals. Arrived at camp at night. All of us laid in the creek in our long drawers. Dinner was buffalo, elk, wild turkey, and white-tail deer. I'm sun-burned, dusty, exhausted, and having the time of my life.
Here is the Day 1 (6/20) Report: Up before sunrise to feed and water the horses. Then they feed themselves. Have to remember to shake out your boots in the morning. Huge wood spiders and rattle snakes like to crawl into them during the night. Rode approximately 11 miles with Company Captain Tom Custer, 25 others, including 3 (real) Indian scouts. Nose Flies! Encountered nose flies that go up the horses noses and it drives them crazy. They buck and try to toss the rider off. Warren's horse bucked and took off running with Warren on him. He was able to control the horse and get back with the group. Temperature is mid to upper 90's and they are riding in wool. They stopped early due to the heat. Took a bath in the Little Big Horn River. Watered and fed horses again for the night. I am hot, tired, covered in dust, and loving every minute of it. This is not a re-enactment, it's a time machine.
6/2/2016: Dear Friends, My thank you to all the sutlers and suppliers who helped me with orders to get ready for this.
As some of you may or may not know, I will be taking part in the 140th of the Little Big Horn Event in Montana the second half of June. It is much more than just a reenactment. We will be re-tracing the last 10 days of Custer's Military Expedition. The entire trip will be on horseback and cover approx 150-200 miles through the great plains of the American west. All participants with the recreated 7th Calvary will be in full Military Calvary kit ( 1875 ) for the duration of the trip. We will travel strictly on horseback, all supplies will be on pack animals in the supply column, coffee, hardtack, bacon and beans will comprise most of the rations. The trip will take us across the plains and we will ride by herds of free ranging buffalo, elk, antelope and be in country still inhabited by grizzly bears and wolves. And, of course rattlesnakes. The last day we ride onto the Real Bird Indian Reservation and recreate the epic battle. Less than 100 troopers will face 500-600 real Sioux and Lakota Indians for a no holds barred battle. The percentage or odds against us will be just about what Custer and his men faced. Since it is the 140th Anniversary, the NPS is then allowing us to ride with weapons to Last Stand Hill where the actual troopers fell and take a group photo.
We are strictly limited to what we can bring and will be virtually living off of horseback. I have been riding since the beginning of January and today rode in full kit with the equipment I will be bringing. Photos are attached showing the weapons, carbine boot, haversack and canteen placement on the horse. I am carrying an original 1873 Springfield trapdoor carbine from my collection and a reproduction Cimarron 45 Colt Calvary revolver. The photo of the gear is just about it. My U S issue blanket has 2 extra pairs of socks, 2 extra shirts, 1 extar pair of long drawers rolled inside, my housewife and that's it. The blanket will be folded and rolled in a shelter half to keep the dust off the blanket, rubber poncho gum blanket on the outside. The haversack will contain a gun cleaning kit, hardtack, small bags with salt, sugar, a period journal, quills and ink and some candles. I am also bringing a small digital camera to take photo. When I return, Bill Mellow, of CO F, has graciously offered to help me put together a power point / CD type presentation for historical societies, schools and so forth. Any monies generated will be donated through CO F for battlefield preservation. That is the right thing to do.
This is a chance of a lifetime to relive history and I hope to come home with memories and stories of the adventure and things that will ultimately make me a better soldier in CO F. Supposedly some of the major news networks are covering this. If I am able to communicate with my wife, she will send out updates to all of you. Warren S
---
6/23/2016: I wanted to drop a quick note and let you know that the Union shell jacket with 1SG stripes and piping arrived today and I couldn't be more pleased- it's perfect! Thank you for all you help and hard work. I will try to get pictures from the event in Emmitsburg, Maryland this Saturday and send a good one on to you. Thanks again for everything, Bruce E
---
6/18/2016: Good Saturday evening to you! I just wanted to say that I have been really pleased by all the reenactment gear I have bought from you! I have also started a Confederate regiment down here in San Diego. My site is 23rdtennesseeinfantry.com. On my home page, about 3/4s of the way down I put a direct link to your site. Hopefully this will help bring more business in!
---
6/8/2016: From C&C Sutlery's Google Business Page: the sack coat i received is fine, great quality (the budget line). c kelly. 5 stars.
---
6/1/2016: I ordered, and received, a great coat in brown with civilian buttons, 44reg. It arrived promptly and I couldn't be happier! Thick, well made and beautiful! I'm certain come winter and hunting I will be quite warm and dry! Thanks so much for making this special coat for me! Your most obt&c. Jed F, Lawton OK
---
6/1/2016: First of all, I received my civilian vest, trousers, and shirt; absolutely the best I have seen. In fact I just ordered another pair of trousers. Thanks. Dave G.
---
5/13/2016: Good Day Folks, I'm very pleased with the purchase of the Kepi Hat. The hat is a gift to my son, who has a great interest in the civil war. He can add this to his collection, I know he will be surprised and very pleased as well. Thank very much, Sheila I.
---
5/12/2016: Everything fits great! Infantry bugle and small irish harp on the kepi already. Pants at the tailor being hemmed and pewter buttons to close mule ears. Got those last weekend at Mansfield OH C.W. Artillery Show. With the button holes on the tuck in part of the coat, I think I'll add inside pewters at the top to help hold the neck closed and even. Sent a picture to my brother of me with all on; says he has to get a great coat. Thanks again, Mike in Michigan.
---
4/25/2016: I ordered 3 belt buckles from your online store and requested a funny picture on the package. I am extremely pleased with the picture [Picture="Kilroy was here" with the words "C&C Sutlery was Here"] and the customer service you provided. I cannot stress enough how much it means that you guys take the time to do the little things. If i ever have to purchase a civil war item I can guarantee that I will purchase it from you. Thank you again to whoever did that, it was awesome! Thanks, Trevor G., Canby OR
---
4/24/2016: And per your request on the budget-line clothing. The quality seems to be nice for the price. the buttons do need to be reinforced especially where saber belt sits I do not foresee button staying on to long once you are in saddle for awhile. overall it is good product for the person on a budget or who does not do reenactments often. I am on a budget myself but prefer to buy American made. The reason I had purchased your budget line was I needed it in a hurry. I usually do Indian wars but got recruited into the Texas 5th Cavalry by a friend who is a Capt. as there unit #s are dwindling down. I will be able to attest to the products durability after the battle of Glorieta Pass this coming weekend. Thank you. Clebert G., Peralta NM
---
4/23/2016: Battle at Bensalem PA, 2nd NYSM, 67th NYSV, 69th PA Battle Charge. Photo by Greg D.
---
4/23/2016: Marching off to Battle with the 69th PA Vol. Co. A 2nd NYSM & Co. K 67th NYSV. Photo from John S.
---
4/23/2016: Union Generals HQ. Photo from John S.
---
4/22/2016: I received my order today, and it included a request for comments on budget-line clothing. I think that budget-line items are great for starting out, considering the expense involved in reenacting. They are also great for expanding existing uniform collections. My view on budget-line clothing is that I need to complete my uniform collection now, but later on I can replace the budget-line clothing as needed with more authentic materials, when I can afford to do so.
With that said, I have a few comments on the budget-line clothing that I ordered. One, I should have asked about budget-line shirt sizes before ordering, but what size most closely matches a size large for regular line uniform shirts? I have a regular size Large shirt from Blockade Runner and a budget size Large shirt from Regimental Quartermaster that fit like a size Large modern shirt; the red bib budget-line shirt that arrived looks and feels great, but fit-wise is probably close to XL or 2XL and is a bit baggier than appropriate. Can the shirt be shrunk in a dryer to make it fit better? I would prefer not to return it, since the error is mine and not C&C. Thank you, Michael R
---
4/10/2016: New York City Historical Society - 82nd/67th NYSV. Photo from John S.
---
4/6/2016: The pants [Confederate Trousers] are perfect and fit just right. Very fast delivery. I plan to buy additional items from you. Hurrah for the south!
---
3/31/2016: From C&C Sutlery's Google Business Page: I explained to them what i wanted and when i needed it and w/i 4 days i had my buffalo soldier uniform in time to have it altered and ready for our Savannah Chapters annual event thanks guys. Neal M. 5 stars
---
3/29/2016: I have received the order and the shawl [Ladies Shawl – Crochet, Ecru ] is awesome. Please let the person who made it know. Ronald K., Redding CA.
---
3/29/2016: The coat arrived yesterday. A truly fine job. It's extremely well-made and fits perfectly. I really appreciate it. I now need to think of something else for you to make for me. All the best, Howard R., Santa Fe NM.
---
3/28/2016: Hi, I just received the trousers that I had order. Thanks for the speedy delivery and the trousers (sky blue soldiers) are beautiful. They fit perfectly too. Dave S.
---
3/26/2016 from Facebook: My latest Garryowen trip to the mountain. My mindset this time was "veteran Union soldier who travels to the PNW in search of the man who killed his brothers." But first, we must make squirrel, lamb, coffee, and hardtack. Thanks to Henry Repeating Arms, Crazy Crow Trading Post and C & C Sutlery for some great firearms and gear. Love my big hunting coat and Union outfit, very impressed that these pants didn't rip. I was able to do full squats in them by the end of the trip. Brandon M.
Union Bushwacking with Lift Big Eat Big
---
3/23/2016: From C&C Sutlery's Google Business page: 5 Stars. Deutschland Erwache
---
3/22/2016: GREAT JOB on my junior officer frock coat! You guys did wonderful; I cant thank you enough. The tailoring was spot on and the jacket fit turned out great. I look forward to ordering again. A friend is considering joining the Signal Corps with me and will need to be outfitted - either a junior officer or NCO. It'll be some time before he places his order, but when he does, I'll surely send him your way. Here's a few pics from last weekends Victorian Event. Thanks again. Sean H
---
3/17/2016: Thank you for the prompt delivery of the carbine sling! It´s a perfect fit for my black powder WERDER: M/1869 (cartridge: 11.5x35R) cav. carbine that I shoot competitively (the cartridge box is also original (but Prussian Imperial) I´ve been looking for an original Bavarian carbine sling for many years and have practically given up hope, but your sling is as close to the original as I´ll ever get. Patrick V.
---
3/4/2016: hello this is rod a. from tas aust. my package (shirt badge) arrived today the shirt is great thank you . rod a., Tasmania Australia.
---
3/1/2016: Hey there. I received the remainder of my order this past Saturday. You all did an outstanding job! I'm very pleased. Can't wait to use my tent!!! I'm looking forward to a very enjoyable reenactment season with my equipment this year. Thanks already for making it possible. If I think of it, maybe I can send pictures. Thanks, Julius H.
---
3/1/2016: I just wanted to say how pleased I am with the quality of my order and how fast it shipped out. I have been using other Sutlers for 10 years and found C&C through an internet search. You uniforms are so much more modestly priced than others and your customer service is fantastic!! Thank you! Madison B.
---
2/26/2016: Thank you for all of your help Greg!! I appreciate it more than you know. I will be sure to send you some pics as soon as we get them. The wedding is April1st, so I figure it will be at least the middle of April before we get them back. Sincerely, Diana D., Pass Christian MS. [CS Uniform Special]
---
2/23/2016: Got back home yesterday and opened the box. Love the [Spirit Horse Challis Vest] vest!! Everything I was hoping for. Well worth the wait. Thanks so much. Will be ordering again. Mark J F., Eagle ID.
---
2/23/2016: 67th NYSVI First Long Island Drummer Boy. Photo from John S.
---
2/18/2016: Greetings! Thank you for the prompt shipping of my order. The plates are perfect and the bags are really cool! They look the part and will be used in reenacting. Many thanks! Patrick M., USA, MSG, Ret., Colonel KY
---
2/15/2016: Hi there! I recently made a purchase from your company and was wondering how I might leave a review for the items I purchased. I was vey pleased with the items I selected and would like to share with other potential customers. I had a fantastic experience ordering, my items were received much faster than expected, and your prices are amazing. I would like to know how I might "share the love" so to speak. Thanks so much for a great experience and the wonderful products you carry. Sincerely, Linda S., Tacoma WA
---
2/11/2016: 67th NYSV First Long Island. Photos from John S.
---
2/10/2016: 14th Brooklyn Red Leg Devils - Co A, 2nd NYSM/82nd NYSV - Co K, and 67th NYSV First Long Island. Photos from John S.
---
2/7/2016 from Facebook: I just got out of reenactment because I was away serving overseas in Afghanistan. So now the war is slowing down I want to start getting back into the world I used to love and that was doing the civil war reenactments. I had always gotten stuff from this company and nothing I could remember every was over looked. The detail and the quality you get is the best out there. I been involved in reenactment for almost 6 years, so I know who I can trust in buying items like this. To top it off this company is the only one that bundles Uniform set and leather goods. I guarantee if you look around you won't find a site that does that. They even have budget uniforms for the beginners. They make in way everyone ith budget can do this without fearing of being too costly. So I can go on and on with how great they are. One last thing they do have the number 1 best internet site out there. Go to other Civil War Sutler site and try to navigate. It's so easy to navigate and it shows that excellent to detail as well how the site is set up just like their item they sell. Justin B.
---
2/5/2016: received the Richmond gray sack coat and forage cap today. I LOVE the homespun style lining inside the sack coat: it is a blue stripe on cream/natural white. I would love to have a Civil War shirt made in this exact material.., I was reminded of a shirt that Kevin Costner wears in Dances With Wolves during the scene where he is torching the pile of deer. To me, the material looks identical to his shirt. Want to thank you for your wonderful products. I couldn't be any happier with everything received. I'd like to wear my greatcoat around on a daily basis, in fact. :) And the other items are just as nice. Thank you and/or whomever does the work of putting the clothing together, and I look forward to doing continued business with you. John C., Tunnell Mill Pictures, LLC., Bloomfield KY.
---
2/4/2016 from Facebook: 5 stars. Excellent quality. First time customer and I will be using C&C again in the future! Very well made kepi! Justin G.
---
1/21/2016: We have received the cap and are wearing it, waiting for General Beauregard to issue the command to fire on Fort Sumter.... :)
---
1/18/2016: I received my Confederate shell jacket and brogans on Saturday. The jacket fits perfectly! The shoes are the correct size but are stiff and will require break in. I have added cushioned inserts and that helps a bit. Thanks! Richard A. S., Tampa, FL
---
1/14/2016: I received my Budget-Line CS Uniform Special today. All items a perfect fit, looks great. Thank you for the prompt service. I look forward to future purchases. Leon R.
---
1/8/2016: These products [budget-line products] seem to be perfect for our use. I purchased them for use in our Colonial interpretation programs. We only use them a few times a year and the cost and quality fit our budget. We Interpret in our Museum, in the Colonial Cemetery across the highway and in the Old Midway Church next door. These garments should be perfect. John R., Member Board of Governors, Midway Museum, Midway GA
---
1/5/2016: Eek! Your customer service has been excellent but wouldn't be able to afford to buy from you again. Just received a customs bill for $171 for my order!!! That's nearly 40%. Just thought you ought to warn UK buyers. Thanks Melody L., United Kingdom
---
1/4/2016: Happy New Year! After a nice break to get away from things, I wanted to get back to you all regarding the orders I placed with you for the uniform for my son, along with the additional items I ordered. I just wanted to THANK YOU VERY MUCH for your OUTSTANDING service and quick turnaround on this order - - you made a young man EXTREMELY happy on Christmas Day!! He loved the uniform and has actually been wearing the jacket all the time, both indoors and outdoors!! Again, thank you all very much and I wish you continued success with your enterprise. I hope you have a great new year and you have definitely gained another life-long customer! All the best. Adam
---
12/30/2015: Just wanted to let you know that I got my shell jacket and I love it! Perfectly made. Looking forward to doing more business soon! Happy new year! Paul
---
12/28/2015 I Received the belt and I'm very pleased thank you. Very Respectfully, Tim S., Cary NC
---
12/18/2015: Thank You C&C from Co. A 2nd NYSM John S.
A band of Brothers Co. K 67th NYSV 1st Long Island
---
12/16/2015: I recently ordered a uniform from your budget line clothing offerings and am overwhelmed with the quality and craftsmanship of the uniform. Usually this level of quality is not expected in something labeled budget line. I have already informed others of your business and my complete satisfaction with your products. Should you need more information please let me know. Dan W., State Commander, Texas Veterans of Foreign Wars, Austin TX
---
12/10/2015: I received two pair of your budget line confederate pants a few weeks back and I am almost completely satisfied with them. To be specific, I ordered one pair of tuscaloosa grey and one pair butternut jean wool trousers. The only part i was unsatisfied with was the bagginess of the trouser's legs. I would have prefer'd slightly less breathing room for a slimmer look. That being said, I think that the supplies of the Confederate States' armys were quite lacking at the time and the bagginess is probably a result of hasty uniform making in a time of war. So, all in all quit pleased with my purchase! Looking forward to making a few more. Sincerely, Kyle S. of Co. E Hart's Engineers
---
12/5/2015: Merry Christmas from Dixie. SVC Camp 158 Augusta GA
---
12/4/2015: The forage cap arrived yesterday. Awesome workmanship and the fit is perfect! You should get on Yelp.com so I can give you a 5 star rating! Thanks, Bill C., Charlotte NC
---
11/20/2015: Ready for Inspection, Sir.
---
11/18/2015: I received my goods today. They are everything I hoped for, thanks for all your help and advice. Cheers, Tony D, Sackville North, Australia
---
11/11/2015: Thank you so much for all your assistance in regard my Union shell jacket. I have received it on November 11 (Aust.Time). The size is perfect! definitely perfect and accurate. I feel very comfortable to wear it, the quality is superb and very very neat! I would love to do more order again soon (Especially another Shell Jacket with similar size and accessories) on next year 2016 and I am very happy to do business with CCSutlery. Thank you so much :) Kindest regards, Herman, Willetton, Western Australia
---
11/6/2015: Got it all today, thank you very grateful to be able to afford this!! Quality!!!! I love it!!! Thank you so much!!! Michael B., Colonial Heights, VA
---
11/5/2015: Received my CS Kepi today. Love it. Also still love my Shell Infantry jacket. Now for some paints. Thank you. Tobin B., Augusta, GA.
---
11/4/2015: My name is Henry and I help with military history at my old High School. I have done WWII but was just asked if I had anything for Civil War. I found your website and ordered a Budget-line Artillery jacket. Man I am blown away with the quality. This jacket even has a fantastic looking lining. If this is the economic one, i can just imagine the good one! When I put on this Jacket I started to remember my mother who passed away many years ago. Growing up in the south Bronx I guess we were the only Latinos listening to Johnny Horten (The Singing American) Johnny Cash, Hank Williams and Patsy Cline, I look forward to purchasing some more items!!! Thank you, Thank you, Thank you!
---
10/31/2015: I just wanted to say thank you for the products I got from your buisness. I used them to make my kids costumes. I hand stich ed alot of it, but your accessories finished them off. I'm from Philadelphia & my husband WV, so to represent the civil war seemed fitting. I've got my Union soilder, Confederate officer & Scarlett O'Hara. I hope you enjoy the pictures. Nicole W.
---
10/29/2015: The dress arrived yesterday -- again, many thanks for your great service. Nell J., Raleigh NC.
---
10/26/2016 from Facebook: Thanks for the fast shipment , great customer service and prices , look forward to doing business in the future . Bryan S.
---
10/20/2015: Hello, I have ordered your budget line and leather special, and absolutely love my new gear!!! Though it is budget line, it looks and feels like very high quality, and hope to do more buisseness with c&c again soon!!! I also loved the great customer service. Thanks again!!! Logan S.
---
10/20/2015: I received my order today, and would like to say how pleased I am with the quality of each item. Thanks, Aaron G., Portland OR.
---
10/19/2015: FANTASTIC! I received my order a few days ago I cannot be happier, thank you. Ross M., NSW, Australia.
---
10/18/2015: Just wanted to drop you a quick line or two about my budget line hats I ordered. First great service fast shipping got my order within a week. Ordered a Confederate infantry kepi and union forge cap. And I'll say ordered both as a test too see if they were good and with some effort be made to look passable or just a cheap looking attempt to kind of look authentic. What have I got to loose twenty bucks a hat maybe at best they will look good enough for a mantel display. Folks I have been a reenacting hobby off an on since my teens in the early 80's yes I dated myself lol. These are NICE hats. Great authentic look great feel honestly I have looked at more expensive hats today at a battle in fact. Only difference I saw between a 70 dollar hat and this 20 dollar one is the more expensive one was a little heavier is all. Side by side looked the same. Honestly I like the lighter cause it's cooler and I'm not talking about a big difference in weight hardly noticeable. Liner is soft leather bib is heavy and well made. Buttons are authentic. The wool has a good feel to it. The Confederate hat wool had a ruff feeling and look like home spun more authentic to me. The Union forge cap had the smoother feel to the wool like a well made Union coat again authentic. We all know the Union had the better made uniforms just a fact. Only one small issue the kepi is tight so if you order you may wanna order a size larger but forge cap fit perfect. But it's an easy fix on the kepi so no big deal. Great product guys. Two thumbs up. We all know the start up cost in this hobby is the most expensive time. So if the shirts and uniforms in the budget line are as good as my hats you can't go wrong. Very satisfied very happy and will order more. Great product great service fast shipping nothing at all to complain about. Very satisfied customer. All that's left to say is thanks from Louisiana. Customer for life. Thanks again, Kenneth W.
---
10/16/2015: I received today the shoes !! excellent. Many thxs. Olivier B., Trelissac France.
---
10/16/2015: Hello, I received my order for the budget union uniform yesterday, and I noticed the incorrect hat was sent. I'll be sending it back for an exchange. Aside from the mistaken hat, and the back ordered jacket, we are very satisfied with this budget uniform! It's been my husband's dream for years to start reenacting, thank you for making it a more budget friendly hobby! Hannah and Gary M.
---
10/15/2015: Thank you. I appreciate your getting the order out quickly. We are a small museum and will have an exhibit on The Civil War related to our area in Texas. I appreciate your prompt reply as well. Have a great day, Vickie M., Rockport TX.
---
10/13/2015 from Facebook: 5 stars. I ordered a pair of union officer trousers and suspenders and they are totally awesome, very nice work...Kevin M.
---
10/12/2015: Great news about the shirt and, my goodness, thank you for attempting to get the vest out too. I certainly didn't think that was a possibility so that is over and above. Thank you! Best, Jennifer L. [Making & shipping shirt and vest in time for husband's birthday]
---
10/11/2015: I recently purchased a union sack coat and a pair of union foot trousers. I'm very pleased with the construction and can't find any fault with the clothing. James B.
---
10/9/2015: the budget line vest that I got from you is of high quality and I am vary happy with this vest and will do more shopping at your store thank you have a good day Ron S.
---
10/8/2015: I just received my order from you and it [vest] is just what I am looking for. Bryan S.
---
10/5/2015: Last month I wrote to you about a sack coat that I ordered which wasn't in stock, and after you telephoned me about what to do with the order, you swiftly sent me my coat which I wore to my first full re-enactment at Huntington Beach's Civil War Days event. The coat was just perfect. And my company was proud enough to have me outfitted proper that I was able to join the color guard for the weekend! It was quit an event and it wouldn't have been as memorable if you all at CC Sutlery hadn't pulled through for me and my absent minded neglect email. This is just a well deserved thank you, from me, for helping me make some new memories and honor a few old ones too. Sincerely, 3rd Reg. Co.E Recruit Kyle S.
---
10/1/2015: Just a quick note to let you know I am returning the US Shell Jacket with Artillery Red Trim in size 34 for exchange to a 36. The coat fits well all over except in the shoulders. My son is a drummer and needs the movement. As far as the budget-line items. I am very pleased with the quality and workmanship on the items. They are very detailed and are perfect for what we need. I had ordered both the confederate and union items and there weren't any issues with the quality on either. My one comment as far as improvement would be with the belt. One of the pant sizes that I order was a 30, but the holes in the belt are for a much large waste size. We do have a punch and can adjust this, but that would be my only offering for improvement. Overall, I think the quality for the cost was better than expected. I appreciate your time and will definitely order from you in the future as need be. Thank you, Rachel C.
---
9/26/2015: The uniform just arrived and as an entry level costume I think it's great. I ordered a size larger than I normally would and everything fits as expected with one exception. The shell jacket sleeves are really really long. Am I to roll these up or is the expectation that these would be tailored to fit my arms? Great turnaround on the product and shipping. I would order from you again. Scott P.
---
9/26/2015 from Facebook: Thanks for the fast shipment , great customer service and prices , look forward to doing business in the future . Bryan S.
---
9/9/2015: Just sending off a review on your Budget Line uniform as requested. I had ordered the CS Cavalry Kepi and Shell Jacket. For the most part they will do just fine for what I am doing. I do 3rd Pa. Vol. Cav, dismounts, but sometimes our southern brothers are a little short on numbers. So some will throw in to help. I wanted something more than just taking my jacket off, and that's where you filled the bill. Didn't want to spend an arm an leg for something I don't do often. Again you filled the bill. Now on the uniform. The Kepi fits just fine and even looks better than the picture. Shell Jacket also fits fine. The shoulders are a little big, like them zoot suits back in the 40's. In time I'm sure they'll droop down. Did notice a faded area on one of the yellow cuffs. No big deal. I did think though that being a Cavalry Jacket it would have the traditional "C" buttons, not CSA. Like I said though this pair is just fine for what I'll be using them for. Hope I wasn't to nick-picky. Regards, Bucky
---
9/4/2015: I made a Civil War film last year using all of your uniforms! I would like to share it with you. You are credited at the end. I would LOVE to know what you think! God's Eternal Campground. THANKS again for al of your help! Joey A.
---
8/26/2015: I received my order of today and was very pleased. We are updating exhibits in one of our museums, the Black Archives Museum, and needed the uniform for display. I was set to order individual budget-line pieces, when I found the US Uniform special-Budget-Line. The special had everything I was looking for at a great price.
For our purposes, I have no cons. It looks great in the room and I am very happy with the pieces themselves and with the speed in which I received the items. (The order was placed on August 21 and was received August 26.) Nothing but positives from this customer! Thank you so much! Sarah E. St. Joseph Museums, Inc., St Joseph, MO.
---
8/11/2015 from Facebook: 5 stars. I just received my mounted Great Coat... WOW! This thing is amazing! It's gorgeous! Excellent detail and great quality! I can only hope it gets cold enough to wear cause this thing is "warm". Brian P.
---
7/16/2015:You have probably the best civil war supply web site I've found. Carter S., Las Vegas, Nevada.
---
6/13/2015: Hey folks, got my order, wanted to say, thanks, very nice quality. Take Care, Rob B., Navarre, Florida.
---
6/9/2015: Hi Arrived at the door yesterday morning, fantastic items! Great sizing thanks again for the advice. Customer service brilliant Cheers Pete K, Wellington New Zealand
---
6/4/2015: Thank you for making this great outfit for our DAR exhibit in Hudson NY. We had over 200 visitors and 4 school groups as part of the community wide commemoration of the Lincoln Funeral train. I received many questions about it and had done my homework so I could talk about mourning in the 19th century. Thank you again for keeping history alive. Carol B.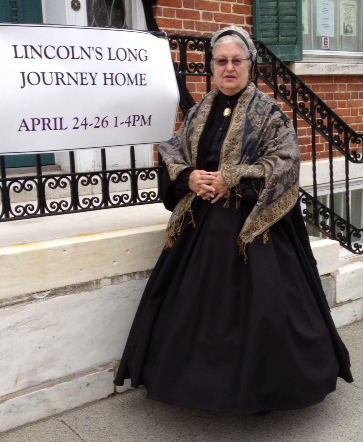 ---
5/21/2015: Good evening! Just a quick word to let you guys know that I have received my Custom Officer's Vest and am very happy with it. Your workmanship is excellent, you did everything I wanted and the fit is very good. Many thanks for your help and flexibility. Have a great weekend! Sincerely yours. Kévin C., Quebec Canada
---
5/21/2015: I'd just like to update you on this. I received my order yesterday and I have to say I'm blown away by the quality of the Kepi that was sent. Thank you so much it's fantastic, I will be sharing this with our group at our next event in 2 weeks and pointing them your way. Very impressed indeed and worth waiting as long as it takes for....Thanks, Mike O.
---
5/18/2015: Greetings, Once again, you core of great volunteers and some hard-working new troops have joined together to inspire thousands to something new in history. Here is a sampling of photos by Veronica B. As more photos come available, we will send them along. This was an incredible success and I am very proud of everyone's performance. What a great crew. I hope everyone had as much fun performing as we had observing from the truck and float. See you at Spring Mountain Ranch on May 30! Regards, Jim E.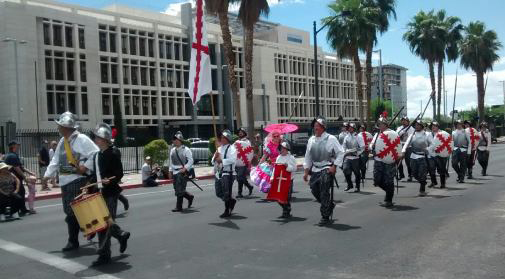 ---
5/10/2015: I had custom order a complete N.Y.S.M Uniform from C&C Sutlery and the quality is 100% in making of the Uniform it was spot on in detail and the pricing was great and not over priced. They work close with me to get all of the details that I needed to have on this Uniform from the buttons to the piping on the jacket I want to thank Greg, Charles and Ellen for being there for me and putting there best foot forward. Thanks from Greg D. 2nd Co. A N.Y.S.M
---
5/1/2015: The hats are beautiful! We're very pleased. Thank you very much for your nice work. Maurine O., Chagrin Falls, OH.
---
4/20/2015: Just wanted you to know that I received my pants on Saturday. I was impressed with the quality of the item for the price. Will defiantly be ordering from you again, and I will recommend you to my buddies. Thanks for such speedy service …. Ron M., Hagerstown , Md.
---
4/9/2015: On Monday, April 6th, I ordered a sack coat and a kepi, budget, grey wool, and with the blue infantry band. I called someone to ask when it would arrive, and he said that with FedEx it would be about 10 days. He then said he could try to squeeze it into a 3-4 day priority mail package, which is already beyond awesome. I called again this guy again today to ask if I could track the number. He looked at my order and gave me the number. Low and behold ... it arrived today! The coat is a bit too big, but that is none of your fault. I just ordered a bit too large. Although, the collar and bands have a nice shade of Inf'y blue, the wool is nice and looks nothing but spectacular. (P.S: His name is Greg, you should totally promote him ... or maybe he is the one who is reading this right now?) Thanks again! - Your future customer again, Judson B. (I said future because I plan to buy another coat, some pants, and maybe some gear)
---
4/3/2015: Hi, My order arrived today and I am so pleased with your detailed work and expertise... Please count me as a valued customer and reference...I be back ordering more. Best Regards, Robert W.
---
3/21/2015: I received my order today on the Butterrnut Confederate Sack Coat and Leathers, it looks great! Thank you very much and I will be promoting your Sutlery for good quality items. Again thank you. Chris H.
---
3/20/2015: Hello, Yes I actually received them the same day I emailed for a tracking number. Thank you for the quick shipping, you will be seeing me again. Melissa C., Fennimore, WI.
---
3/15/2015: This is a photo taken yesterday of The Sons of Confederate Veterans, Major Thomas J. Key Camp #1920 next to our decorated cannon and trailer at a local St. Patrick's Day parade.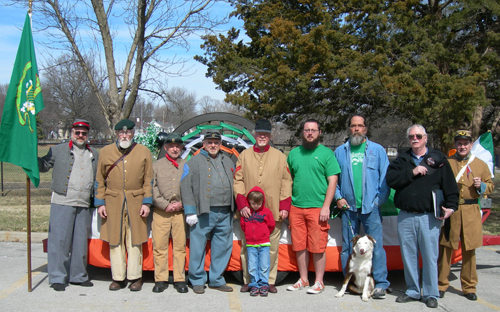 I am on the far left holding the flag, dressed in a uniform which included the trousers, shirt, vest, and suspenders from your budget line. Everything fit very well and blended in with everyone else. I received multiple positive comments on the uniform and the cost.
Thanks again for your customer service and for providing the budget line of uniforms.
Jim T.,Shawnee, KS
---
3/14/2015: Shiloh Exhibit by Armadillo Arts.
---
3/1/2015 from Facebook: 5 stars. Great people to deal with. Excellent services, HOPE TO DO MORE BUSINESS WITH. THANK YOU, CARLOS T.
---
2/28/2015: I wanted to send you a note of sincere thanks and gratitude for your awesome customer service and prompt shipment of my order.
On Tuesday, I placed an online order for a pair of trousers, suspenders, a vest, and shirt from your "budget line". I also called to discuss proper sizing and was impressed by the enthusiasm and knowledge of the gentleman I spoke with. On Wednesday, he personally called me twice to discuss a couple of issues (would I accept a pre-washed shirt and a jean-wool vest as the one I ordered was out of stock). He thoroughly explained my options and offered $5 off the shirt price. That's what I call awesome customer service.
I received my order today (only a 4 day turnaround!!) and am very pleased. As you have a very good explanation of the "budget line" and what to expect in its quality, I knew what to expect. Other than a couple of button holes (1 on the shirt and 2 on the vest) needing restitching, the clothing exceeds my expectations and fits well. It will fit my needs for parades, honor guard duty, and festival displays perfectly.
Your company provides a great service to those just getting started, or like me simply wanting to look the proper part, with this budget line of uniforms. Thank you for offering this line and please continue to provide it for those of use not wanting to spend hundreds of dollars. As commander of my local Sons of Confederate Veterans camp, I plan to recommend your company and promote it for our members wanting to get more involved, but not having the money or resources to do so.
Again, my thanks. And please pass along my thanks to the gentleman who took care of my order and provided such great customer service.
Sincerely, Jim T., Shawnee, KS
---
2/27/2015: Thank you all so much! It looks great, and I'm truly impressed with the quality of the leatherwork. Ya'll do good work!
Dillon W., Education Specialist, Museum of the Rockies, Bozeman MT
---
2/21/2015: Rosettes arrived safely today around midday. Wow, great repro's and look fantastic on the bridle. Very pleased. Best regards, Jed. United Kingdom
---
2/7/2015: The bridle is beautiful, by the way Tammy S
---
2/6/2015: Received our [US Made Wood] canteen. Loved loved loved it. Thank you so much. Debbie H.
---
2/1/2015: I did receive the coat.Very nice craftsmanship, thanks. Steve T.
---
1/17/2015: Got my sack coat and great coat - could not be happier. Thanks again - Greg W.
---
1/6/2015: The vest are a hit! Great work, see uniform is on way, Thanks so much, William G.
---
1/1/2015: Great Kepi. !!Thanx!! Great new year. Lord Bless all. Look to forward purchasing. Keep me posted! Carlos W.
---
12/10/2014: Just received my new Spirit Horse lined coat, quality and workmanship are top notch , fit is perfect, way more coat than I was expecting. You know how it is, you pay your money and takes your chances, but by far the nicest piece of clothing I am now the proud owner of ! Thank you at Spirit Horse Enterprises for a high quality product that will surely outlast me . Thanks again ,Regards , Wayne L.
---
12/9/2014: Thank you for the parcel. The hat looks amazing. Lilia K.
---
12/5/2014:Thank you so much for your arranging the shipment of my order (cavalry martingale). I've receive it today. I indeed appreciate your swift action. I believe it'll be a good Christmas present to my wife's horse. It's a pleasure communicating with you. Have a happy holiday. With warmest regards, D. H.
---
11/24/2014:Received my order. All is excellent. Many Thanks Greg
---
10/29/2014: I had been meaning to email you since I got back from the 150th Cedar Creek two weeks ago. I had ordered (at the last minute ) a Federal Greatcoat in Navy blue. If you recall I needed it for an overnight ride where we were not allowed to have any fires and the nights were pretty cold. You told me you would do your best to get it to me in time, and that was going to be tough because you only had 4 weeks to make and ship it. My order arrived the day before I was leaving for the reenactment. The final product was incredible. I was so impressed by the look, quality, and weight of the greatcoat. Numerous fellow reenactors commented on it and I told all the guys in my unit how happy I was with not only the product but the customer service I received. This was my first order with C&C Sutlery, and I can tell you, you have made me a customer for life. I can't thank you enough for getting order completed in time for me. I will be in touch next month when I order a new shell jacket. Thank you, P. J. F.
---
10/3/2014: It is nice and it [CS Officer Shell Jacket] fitts l love it thanks....a lot. Rodrigo L.
---
9/27/2014: My gear arrived today. I am very pleased with the quality. The belt was worth waiting for. Again many thanks Cheers Ivan
---
9/17/2014:Just letting you know that the frock coat arrived yesterday in perfect order. It also fits well. Many Thanks, Steve A
---
8/20/2014: We received the order today and everyone is delighted! I'm sure we will be back in touch again one day soon, Thanks you from the Costume team of Diablo! Odessa, Assistant Costume Designer, "DIABLO"
---
8/10/2014:We received the jacket and hat really fast. Thank you so much. We are pleased with the quality of a Budget-line Jacket. It is really lovely and is going to look awesome with Ian's kilt. I look forward to possibly buying the American Made jacket later, if my son gets more into these reenactments. Dana
---
8/1/2014: I just received the beautiful Sack coat and the belt. I can not thank you enough for your kindness. I understand how much you rushed this order and I am extremely grateful. Sincerely, Debbie S.
---
7/28/2014: Tim C.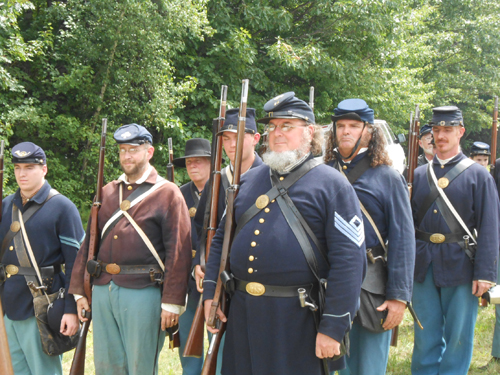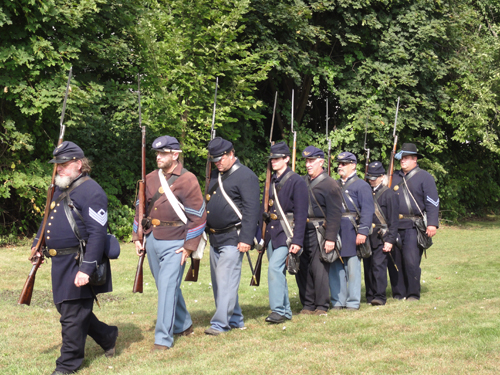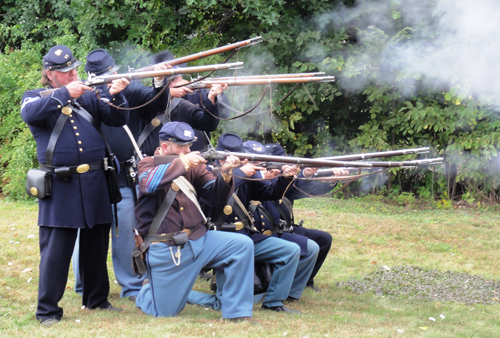 ---
7/27/2014: Just a quick note to say that my order arrived safely and all was in order. Some of the extended family have Hoosier roots and the two hats will be made up with the brass insignia to represent the Civil War regiments their forebears served in. Thanks for the good work, MP
---
7/3/2014: I received the Waltham Pocket Watch. I love it! An excellent watch, a great deal and good price. Thank You. Donald K. PS. I showed it to my friend, Pete. Made him jealous. You will probably be getting an order from him soon.
---
6/13/2014: First I want to tell you, that I really appreciate your work. We are a small Civil War Reenactment Club here in Switzerland (www.grayghosts.ch) and I already could sell several items of your company to my club friends. And all my friends say that they appreciate the top quality of all your products! And as you told: Great Coat fits and that's the only important thing. Thank you! Thomas W.
---
6/12/2014: Great Coat and Shell Jackets arrived today. Shell Jackets are perfect! Thank you, Thomas W.
---
3/28/2014: I received my Hardee hat you shipped yesterday, which was my Birthday, and it arrived in great shape. Thanks for the good service...Mike S.
---
3/29/2014: The order [Civilian Vest, Civilian Sack Coat] arrived today; everything is great. Vagel K.
---
3/25/2014: We got the dress you made for my students, and it looks great!!Thanks again Spence J.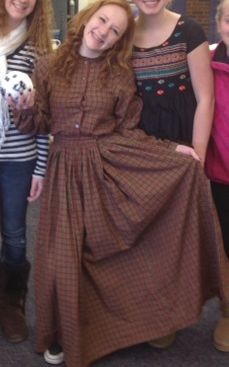 ---
3/6/2014: We just received the shirt and vest and he loves them! Just in time. They fit perfectly and he is very impressed with the handiwork and authenticity of the garments. I'm sure we'll be back for additional items in future! Thanks and have a great day , Jane O.
---
2/28/2014: I would like to thank you on behalf of the NYS AOH District One Honor Guard. We have spent the last nine months gathering material and creating our uniforms to recreate the Ancient Order of Hibernian Honor Guards of the past and could not have done so without your superior products. The 1858 Hardee Hats and Irish Harp badges really help bring the uniforms together. Please take a minute to visit our website, www.nysaohhonorguard.com to see some of the images of historical honor guards and see what we are doing. I thank you once again and look forward to doing more business with you soon. Christopher T. Captain, NYS AOH Dist. 1 Honor Guard.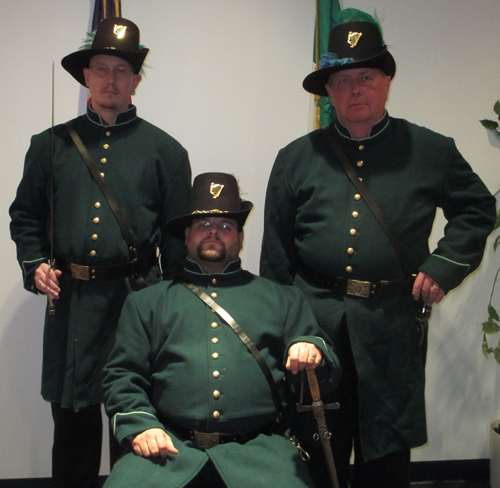 ---
2/27/2014: The two shirts I ordered arrived a few days ago, and I couldn't be more pleased. They are absolutely perfect. Now I'm looking at a wool vest with Federal Eagle buttons ....Thanks again, Bob
---
2/26/2014: My blue Kepi arrived and I am very happy with it. Having to wait for it to be made was not a problem at all, in fact there is something quaint and old fashioned about that. It is so much nicer than to hear something like "we are waiting for a shipment from China...."Thank you once again and I will enjoy wearing my Kepi for a long time to come. John R., Australia
---
2/10/2014: I received the [budget line] jean wool infantry jacket and [budget line] pants and I must tell you that the jacket is more than I expected! The jean is very authentic, nice color and texture. Being lighter in weight it will be great for summer. The fit is perfect, nice length in the sleeve and body and loose enough for freedom of movement. Most import jackets are very big in the body short on sleeves and not worth the price they charge, but not so with this one. I also like the light blue tape trim, I have seen a lot of originals with colored tape branch designation (mostly black) so this will be a nice addition to my collection. I must, however, say that I was not so impressed with the pants. The waist and length were good, but the legs were so tight I thought the seams would split! My wife spent some time letting out the inside leg seams and seat seams to make them fit. They are OK now, but not near as nice as your regular C&C quality. I have two pair of your regular trousers and love 'em! I saw on your new web site, too late, that kepi hats to match are available, so I ordered one (I hate paying more shipping). I have attached a couple of photos of original confederate jackets with tape trim and one of me, in my cadet gray colonel's frock coat that you made for me several years ago, for your gallery. Looking forward to doing more business in the future. Yours Truly, Jim W.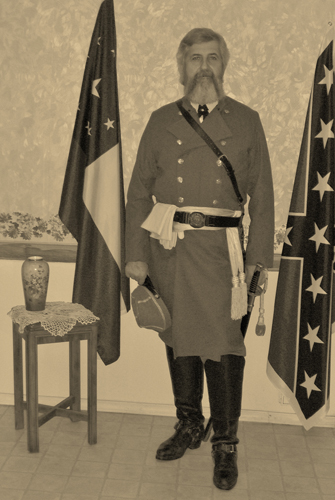 ---
2/6/2014:Good afternoon, The shell jacket you made for me (50 x tall with a few modifications) arrived today and it is an excellent item. Thank you for an outstanding job. Jon
---
1/24/2014: Vonda S.

---
1/11/2014: Hello, Parker received his Civil War uniform yesterday. I wanted to email you with a big THANK YOU! It fits him and exceeded our expectations. We will be ordering more from your company. Impressive quality. Thanks again, Celia H.
---
12/28/2013: We are actually using the stuff we ordered for real out here. We're on a very small base in the middle of nowhere in Afghanistan, need chairs and other camp paraphenalia, especially headed into winter and thought it would be great to go with a Civil War theme...not to mention it was a fascinating time in US history! We were thinking here that it might be the first time in a long time Civil War era equipment has been used in a real war...kind of cool in our eyes anyway! ... We received the goods we ordered and thought I would send you some pics of the items in use. I wanted to get creative and recreate some old photos but time and circumstance didn't allow it. I have included some photos of the tableware in use around the camp and a couple of the stainless steel cup "in action". I hope you like them and if I can get some other photos of the chair and lantern in use I will send them to you as well. The meal shots were taken on Thanksgiving with the Afghan National Army Special Forces team we are currently working with. Kind Regards, Dane B.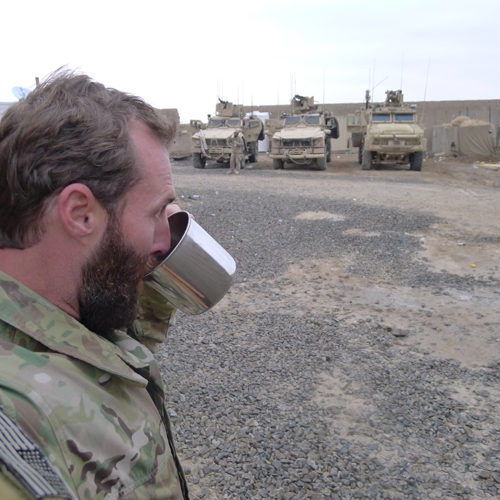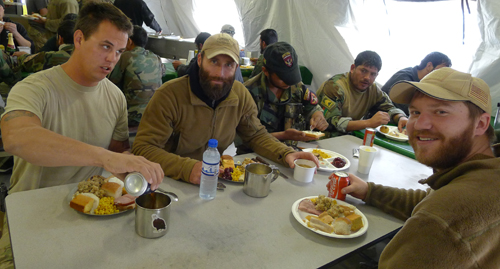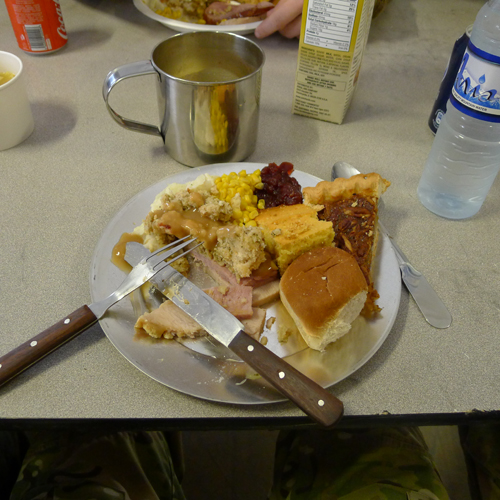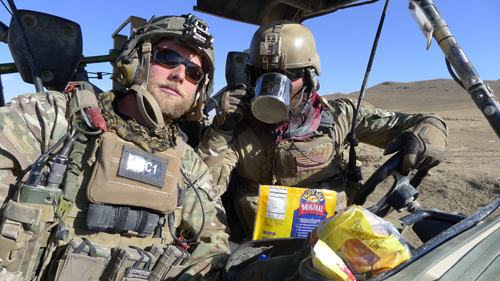 ---
12/27/2013: Thank you so much for rushing a pair of size 32 pants through for Christmas! My son loved his new pants, and is already talking about the reenactments he is planning to attend during the summer of 2014! John W.
---
12/13/2013: Just received the left side right hand Walker holster and it is good to go!!! Thanks for everything. Have a Merry Cristmas in Idaho! Gentry T.
---
12/7/2013: Without a doubt this is the most wondrous St. Nicholas suit I could have imagined, and it is all due to you craftsmanship, quality, and beautiful attention to detail. "He looks like the real Santa." "You are the most authentic Santa I have ever seen!" "What a beautiful outfit." "Santa, I love you coat, it looks soooo warm!" "WOW, that is a tremendous suit." "You look like a Victorian St. Nick from a snow-globe." The superlative go on and on. This is just a small sample of the compliments I have received because of your fine product. Ever the children that are teetering on the edge of disbelief are sometimes pulled back because surely this must be the "Real Santa" after all look at his suit. As you see in the photos I've trimmed the coat and hat in real fur. I like the way it moves, feels and adds to the overall authenticity. Thank you again for such a fine suit I will highly recommend you to any and all. Sincerely yours, Stephen J., Santa House Pittsburgh PA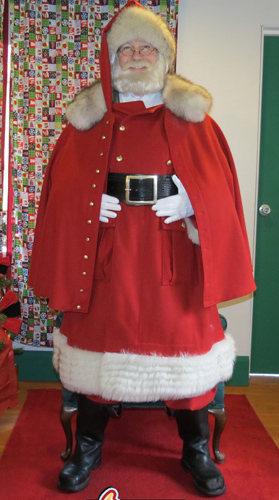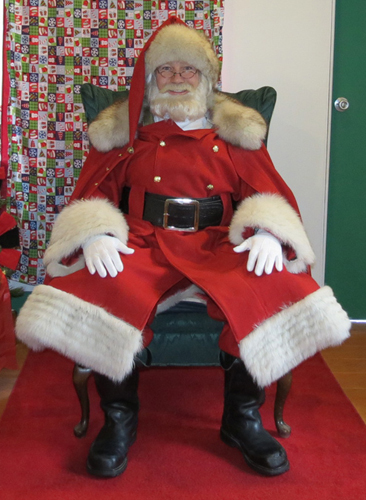 ---
12/4/2013: A photo of your stainless steel ACW plate and detachable tableware set at the Gettysburg KOA. What you see on the plate is authentic Civil War fare: apples and onions with salt pork, and johnnycakes. It actually tasted good and was a pleasant addition to our weekend stay for an article on the battlefield that my wife did for the KOA Internet blog. My compliments to C&C for your interesting products and your speedy shipment. Best wishes, Jeff G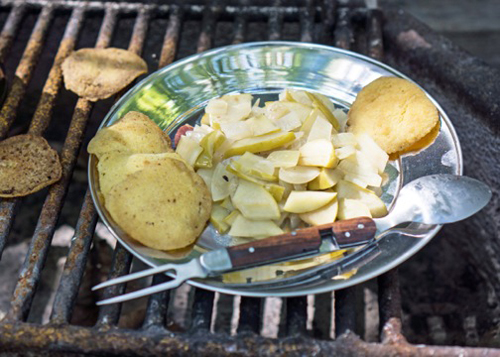 ---
11/24/2013: Your products are amazing they feel great and are warm ad comfortable. I will hopefully will be ordering from you soon thanks again, Kode
---
11/13/2013: John F of the Texas A&M Corps Center Guard:

---
11/9/2013: I want to thank you. I received the cavalry boots and they are outstanding. The wait was worth it and your service is outstanding. Phillip S.
---
11/7/2013: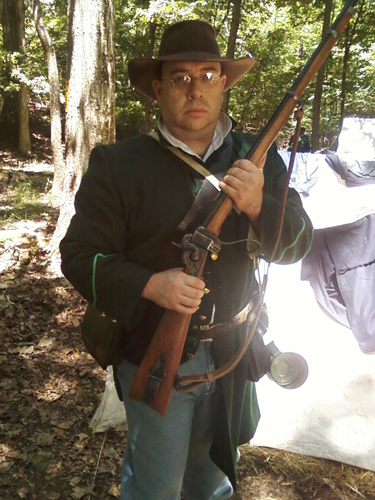 ---
11/7/2013: I have attached a photo of the jackets in use on stage for your enjoyment. Everyone loved them--the craftsmanship was fantastic, they looked great, and have held up well. I am excited to shop with you again and plan to recommend C&C to my other costume design colleagues as well. Thank you again. Stephanie J., Costume Designer, UCM Theatre and Dance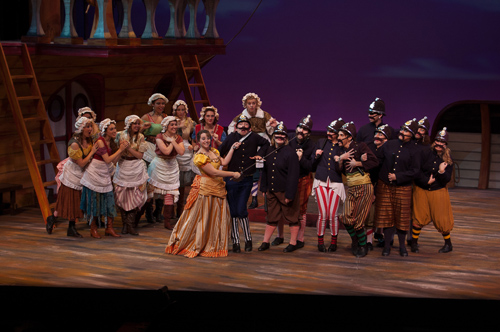 ---
11/1/2013: I wanted to write and personally thank you for getting my sky blue Federal pants to me so quickly. What a surprise, but I was thrilled. I know you went to special trouble to make that happen, but you have made me a very happy man, and MOST satisfied customer. I'll avoid RUSH orders in the future, I promise. Thank you again. Charles B.
---
10/31/2013: It was styled after the Texas 10th cavalry. everything I wore except the boots was from " those guys up in Idaho" ...your fame & noteriety is well spread...Sincerely, Wm. J. thanks for all you've done for me.keep up the good work.sincerely william j., AKA corporal Seymoure Butz, Texas 10th.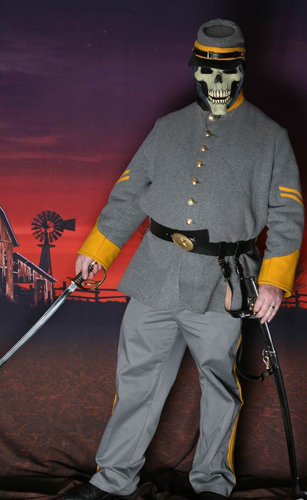 ---
10/9/2013: Thanks for getting my dress,jacket,blouses,slip,and purse on time for my genealogical meeting dress up. I was portraying Fannie Ellington, sister of James D. Ellington ,mortally wounded at Antietam and Byrd Ellington who survived the war. Fannie was my great grandfathers sister. Thanks again! Judy S.
---
9/5/2013: Received the [CS Foot Jean Wool Trousers] Trowsers today and am extremely pleased.Great fit. Thanks so much for a speedy order. I will do business with you again! Best Regards, Michael W.
---
8/10/2013: Received the lined Stanley vest today. I expected a really nice vest, but wow this is perfect. I'm ordering another one today and then two more later when I decide which pocket style I like best. I've been wearing filson vests for the last few years but yours are much much nicer. I wish I would a have found you sooner. Many Thanks!! Roy M.
---
8/3/2013: THANK YOU! I just love the Garibaldi blouse you were able to rush to me. It fits perfectly and is just beautiful. I so appreciate your making it and shipping it so quickly. Our dress rehearsal is this coming Tuesday, and I am so pleased to have my outfit complete. Love your catalog and will share it with all of my 19th century friends! Thanks again, Barbara L.
---
8/1/2013: Hi. I have just received order #XXXXX, and am totally happy with the merchandise. High quality! I am though totally bummed about the knapsack being out of stock. I appreciate your not charging me, but do you have any idea when you may be getting more in stock? I was probably more excited about that then anything else. Thanks, Dane D.
---
7/18/2013: I just had to e-mail you and tell you what an outstanding job you did on my CS shell jacket and Kepi; wow, to say the least, its "beautiful" and the fit couldn't be better, almost like I had my own tailor standing next to me. You people put out the best product on the planet. Its been great doing business with you and I know I'll be back. Tell your people, they should be proud of their work! Cheers; Mike M
---
6/26/2013: Just wanted to let you know that my SNY belt buckle arrived today in good order. Thank you very much! Looking forward to doing business with you again!--Neil C.
---
6/27/2013: I want to thank you again for helping get my stuff sent out on time [for Gettysburg]. I realize how busy you folks were and I appreciate you going above and beyond. My package is almost here! Thanks again! Jason F.
---
6/29/2013: Hello! I have recently purchased a frock coat from your store and it just arrived today. I have to say that your company has done a wonderful job. I ordered the enlisted mans frock coat and am completely happy with the whole transaction. The coat fits perfectly and looks quite dashing. I also received it in a very timely manner even though the 150th anv. of Gettysburg is right around the corner. Thanks to you, Ill be able to really LOOK the part in our local parade. Once again, I wanna thank you very much. Sincerely, Pvt. Philip A. 30th Indiana.
---
6/17/2013: To Designer C & C Sutlery/Spirit-Horse Entrp; Got my CSA Large Kepi today. It is way more than I thought, I love it ! You do great work and I mean that as I live with a hat designer from Hamburg, Germany. I love everything about the hat, the lining,the wool the red band and the Real leather work plus brass style button and Real adjustable chin strap. Everything you advertise is here and in Quality shape. Thank you again for designing my Kepi & it was well worth the wait, Well worth it ! Misha
---
5/29/2013: I just received my order and tried it on. Absolutely amazing - I can't believe how great this is! I took it down and showed it off to the other guys - they were all very impressed. Top notch work, I must say! Thank you so very much! Matt I.
---
5/28/2013: thank you very much; the item [125th Anniversary Civil War Medal - Gettysburg] came today and I just mentioned C&C Sutlery in the draft of my article on the 150th anniversary of the Battle of Gettysburg. best wishes, Fred R.
---
5/14/2013: I received my bayonet, scabbard and frog today, thank you, I was wondering if you had sent out my musket at the same time? It says on the invoice that it was drop shipped 4/19 and my Master Card was billed, which I did see on my monthly statement. If you could let me know it would be greatly appreciated. My Camp has many events coming up and I would love to have the musket as soon as possible. I love your service and will continue to use you when I am in need of other things for my Civil War needs. Thanks, David K.
---
5/13/2013: thank you for the prompt order. they [solid color shirt and Early War CS Kepi] look great and I am looking foreword to wearing them at Gettysburg. Jeff L.
---
5/3/2013: I just received my order and the jacket is perfect! Even though I didn't receive it in time for my first event this season, you still sent it out in a timely manner and I appreciate it. I will definitely place more orders with you in the future. Take care and thanks, Lisa 3/30/2013: I wanted to let you know that I have received the artillery shell jacket, and I am well pleased with it. The fit is perfect. It makes me think about the ZZ Top song Sharp Dressed Man. Thank you! Mark S.
---
5/2/2013: Just received the pants; they are great, such quality and workmanship, wow, what a job you folks do. The fit couldnt be better, very classy indeed. I cant wait for the coat you are going to make me. Hopefully you are ready to start on it? Thanks again for such a splendid job. Cheers; Mike M.
---
4/6/2013: Got my gear today, thanks. Looks terrific! Any good tips for breaking it in a bit before heading into battle looking like I came out of a Tide commercial :-) But in any event, it looks fantastic and I really appreciate the rush so I can get used to it before Chancellorsville. Hopefully I'll get a few bullets holes in it there so it will be cooler when I get to Gettysburg in July! Best, Pete
---
3/28/2013: I received my order from you today (125th Anniversary Medal-Gettysburg Battle-1988). I am very pleased with the item. I have been hunting for this item for nearly ten years in antique stores and was unsuccessful until I went on Google and found you. My reason for this need was personal. As an eight year old boy our family spent the week of July 1-7, 1938 attending the 75th Reunion of the Gettysburg Battle. I was fortunate to see over 1600 living Veterans of the battle. I also picked up a ribbon pin souvenir pin of the event. I have been back to Gettysburg many times including the 100th Anniversary in 1963. I picked up an eagle ribbon medal and attended the 125th event but did not find any pins or medals until yours arrived today. I am now involved in an Antique Mall in Gettysburg selling artifacts and relics and will be attending the 150th anniversary in July. I also do Living History of Col. St Clare A. Mulholland, commanding Officer of the 116th Infantry Regt, PV. The three medals I have accumulated are on the Uniform I ware along with his Army of the Potomic Medal. He was also awarded the Congressional Medal of Honor but it would be impossible to get one of them. Thanks again. Richard G.
---
3/5/2013: Package received this last weekend, [Civilian] Coat and vest great quality,and fit very well. This has been a very good transaction,and am pleased all around. Thank you. Gerard M.
---
3/5/2013: My Indian War era fatigue blouse arrived a week or so ago. You did a beautiful job on it. I plan to wear it when I attend the Quigley Long Range Shoot this June. Thank you. Sam
---
3/1/2013: The hat came today and i must say it was well worth the wait.Thanks for the catalog you enclosed with the hat as i will have a look to see what other civil war items i may need. I thank you again and keep up the good work Greg and co. My Best Wishes To CC Sutlery. Lennie W.
---
2/12/2013: Just a quick note to let you know my order arrived today. What excellent service! I only placed the order on the 3rd and here it is. Everything is great as usual. Thanks for the interest you take in serving your customers, we just don't have that in this part of the country. Mark D., BC Canada.
---
2/7/2013: I just received my duster, after ordering it off your " overstock and returns " section on your web page. Outstanding quality, price, and customer service !! The fit is perfect, my satisfaction complete. Thank you, for another hassle free business transaction. job well done. David D.
---
2/5/2013: Thank you for your email AND for your phone call last night. Now a days, that thing called Customer Service seems to be nothing more than a "throw away line" for most business', especially Sutlers. It is so good to deal with a Sutler who still understands the meaning and importance of Customer Service and possibly explains why you are so busy. When I contact a business by email, I do expect to get a response in a timely fashion, even a "we have your request and will get back to you soon", I suppose I am old fashioned and still believe in being courteous. Not only do you respond to emails, BUT also provide additional information which makes it easier, and more of a pleasure, to do business with you. Getting a personal phone call is, in my opinion, going the extra mile to ensure your customers are happy and that you provide them with exactly what they want, the FIRST time around. Again, this possibly explains why you are so busy. As mentioned, I am old fashioned and rarely (if ever) compliment a business for doing their job. All too many business's treat their customers with contempt or simply take them for granted. C&C Sutlers does the exact OPPOSITE. I have placed two orders with you guys in the past, and your treatment of me as a customer has not changed, you still provide "old fashioned customer service" and that is why I will continue to do business with you. Your business ethic is beyond reproach, your customer service is exemplary and they are the two traits that I take very seriously, admire and respect. Sincerely, Tony C. PS: In the very near future, I will be placing an order for a Large (Officers) Wall Tent with you. In advance, I would like to ask if that tent can be made (or have added) a "Sod Cloth".
---
9/10/2012: My order [Wood Hand Guns and Wood Rifles] arrived today and I am very pleased with the items I purchased. Thank your for your prompt service. Grace K.
---
7/31/2012: my order arrived a few days ago and everything is present and accounted for, and it all fits well. Thanks for the efficient service. You folks remain my "Civil War Sutler of Choice". Enjoy the rest of your summer. Kind regards, Frank. Founder, Lincoln Learning Group
---
12/30/2010: I just recieved my uniform and it was perfect. It fit beautifully. I look forward to ordering more from you in the future. Thanks and best wishes, Bill Y.
---
9/27/2007: Patrick Falci as AP Hill wearing the cape you made for me. Ron Lesser
---
2/11/2004: Thank you again for a extremely nice product. The greatcoat you made me is perfect. Respectfully yours, Capt. Andrew J., 5th USCT
---
2/3/2004: WE HAVE BEEN TO MANY SUTLERY WEBSITES,& WE MUST SAY YOUR SITE SELLS SOME OF THE BEST YOU CAN BUY, AT THE LOWEST PRICES. KEEP UP THE GREAT WORK. YOU HAVE BEAT BLOCKADE RUNNER & FALL CREEK SUTLERY BY SELLING THE BEST AT THE LOWEST PRICES. SINCERELY, DAVID & MATTHEW L., ASHEVILLE,NC
---
1/19/2004: Just wanted to let you know The basic CS uniform I purchased is Awesome. The craftsmanship far exceeded my expectations, and this being my first uniform I will be proud to wear it to future reenactments. Very authentic, and along with the leather kit, I really look like a confederate soldier. Thanks so much, Vic R.
---
1/19/2004: Hi, I have attached a picture of me as J.E.B Stuart. This was at Jackson Mills, WV, which is where Stonewall Jackson grew up as a young boy, on Labor Day weekend 2003. I have a separate attachment just in case you can not get the picture from the email itself. I want to thank you for the fantastic service and help you gave me in getting the 1859 McClellan Saddle and tack to me on time. Every piece was top quality and at very good price!!! You went the extra mile to be helpful and it is very much appreciated. Your attitude towards your customers is very commendable. I look forward to doing more business with you in the future. Alias J.E.B Stuart and I am also Master Sergeant Shaw. Raymond J S
---
1/17/2004: I just put the order in on your website. Thanks for the info. Just so you know our unit owns a lot of your uniforms. If you look at http://www.currieweb.com/ at the 76th New York Volunteer Infantry you will see us wearing your stuff. If you look at the pics you will see a picture of "Vinny". The corporal trousers I am ordering are for Vinny. The uniform in the picture is made by you. Steven R. C.
---
1/17/2004: You always come through big time for me. The workmanship is top of the line. I especially appreciate your attention to detail, that makes your uniforms so exceptional. The Uniform that Stonewall Jackson is wearing in my painting " In the Presence of His Maker " was custom made for me by C&C Sutlery. Thanks, Ron Lesser Website: www.ronlesser.com
---
1/12/2004: I just wanted to drop you a line and say Thank You so very much for the Union Major's uniform that I ordered from you early last year. I had looked over and over again for a uniform in the larger sizes, but no other Sutler carried anything close. Not only was your uniform top-flight, but the prices were ten times more reasonable than any other sutler. Additionally, with your uniform, I recently won First Place in a Costume Competition in Yuma for Old West Reenactors, of which I've attached a picture. So thanks again! I'm sure I'll be ordering some Old West clothes from you very soon!!! CHARLES L
---