Civil War Kepi, Forage Caps, & Hats
We offer the finest Handmade Kepi's & Forage Caps available.
Please Note: USA Made Kepis and Forage Caps Are running 4-8+ weeks to be made. Please call or Email for Ship times for your order.
We use only the best materials. They feature a heavy leather brim, functional chin strap with brass side buttons and center buckle, leather sweat band, and are lined.
If the kepi and forage caps options below don't meet your needs, call us to discuss your specific customization.
All Caps and Hats with the exception of STANDARD Colors, Styles, and Sizes as listed below are custom made specifically for you and are subject to a restocking fee.
STANDARD CAPS & HATS: Forage Caps & Kepis sizes M-XL, Untrimmed & made of Navy Blue or Medium Grey Wool. All Budget-line Kepis & Forage Caps. All Slouch Hats & Hardee Hats.
Click to read our RETURN and EXCHANGE Policy.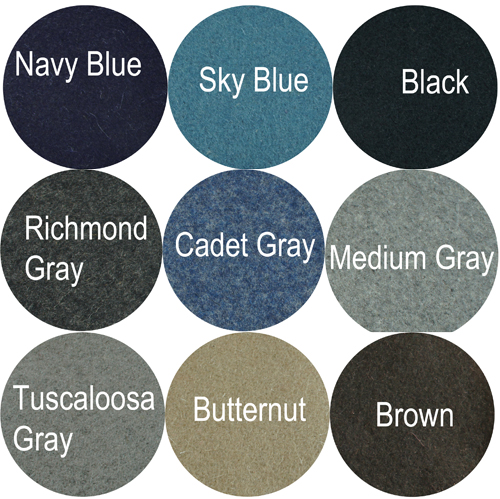 Hat Size Guide, measuring the circumference of your head, above the ears, with a cloth tape measure.
Small - 6 5/8" - 6 7/8" - approximately 21"

Medium - 7" - 7 1/8" - approximately 22"

Large - 7 1/4" - 7 1/2" - approximately 23"

X-Large 7 5/8" - 7 7/8" - approximately 24"
Branch of Service Colors:
General Staff and Engineers: Buff (cream color)
Artillery: Red
Cavalry: Yellow
Infantry: French Blue or Sky Blue
Medical: Black