Civil War Clothing and Reenactment Supplies
C&C Sutlery
2001 North Washington Avenue
Emmett Idaho 83617
208-398-7279
Monday - Friday 8:30 AM - 4:30 PM Mountain Time
We have been VERY busy and many clothing orders are back ordered.
Please allow 4 weeks for your clothing orders.
We have Gift Certificates available.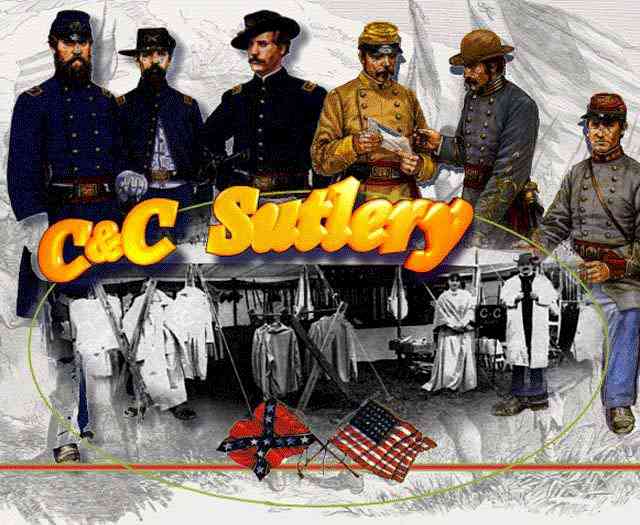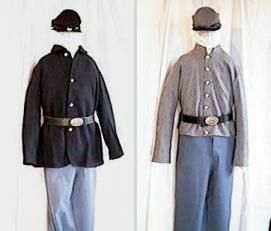 Civil War Uniform Specials
CS or US Uniform Special Consists of the Following:
Kepi, Bummer or Slouch Hat
Sky Blue, Navy or Gray Trouser
Unlined Sack Coat or Shell Jacket
Leather Waist Belt (Black or Russet)
C.S. or U.S. Oval Lead Filled Belt Plate
Unbleached Four Button Shirt
Adjustable Suspenders
Additional color selections for CS Trousers and/or Jackets (add $15.00): Richmond Gray (dark gray), Cadet Gray, Butternut, Tuscaloosa Gray
Option to add Muslin Lining.
Also option to add Epaulets, Piping, Collar & Cuff Trim on CS uniforms.
Uniform Made with the highest quality wools and materials. MADE IN U.S.A * State of Idaho.
Just like the traveling Sutler that plied his goods during the Civil War; when you need Civil War period clothing, Union Army Uniforms, Confederate (CSA) Uniforms, authentically reproduced Civil War era tents, reproduction Civil War weapons, Civil War buckles & breastplates, perfectly reproduced Civil War buttons, and Civil War Period Accessories C&C Sutlery has just what you need.
No matter what your American Civil War reenactor unit specialty, CSA or Union Artillery, Foot Infantry, Buffalo Soldiers, US Cavalry (the famous Horse Soldiers) or the Old West Frontier, when you need authentically reproduced clothing, a shell jacket, uniform trousers or frock coat C&C Sutlery has it.
When bivouac time rolls around, C&C Sutlery can provide you with an exact replica of the same candle lantern, camp stool, eating utensil, and even a completely stocked "housewife" to patch your uniform or sew on a button used by both southern and Northern troops during the Civil War. C&C Sutlery even carries old fashioned "Lucifer matches" in authentic Civil War period boxes.
C&C Sutlery doesn't forget your trusted authentic period transportation either. We carry a complete line of Cavalry Leather Goods made from Original patterns crafted from the highest grade leather.